March 24
.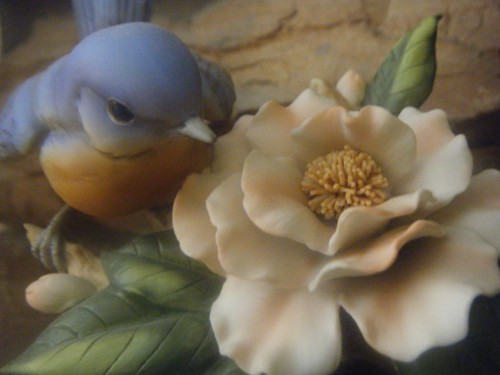 Last year, in April and May, I did a "Spring Spruce-up."  I'm starting early this year because our temperatures have been so warm, I'm already getting Spring Fever. 
I love those idea lists in magazines because they help me focus on an area.  Here are 10 design ideas from a flyer I received from Better Homes and Gardens:
1.  Rearrange Your Furniture
Start with the biggest piece and turn toward a focal point, such as a fireplace or window.  Or angle a sofa, chair or bed that's currently hugging a wall.  If you don't like how it turns out, try it again!
I've been thinking about trying a new arrangement for my living room.
2.  Paint Your Front Door
A warm color at the entrance of your home makes it seem more welcoming.  Just pick a fun color, get a quart of exterior paint…you can transform your home in an afternoon!
What I really want is a new front door, but I might just have to settle for repainting what I have.
3.  Ungroup Matched Sets
Identical end tables, nightstands and lamps can make your home feel like a furniture store.  Swap out one of the pair  with something in another room.
I can skip this one…nothing in my house matches.  I'm naturally ungrouped and mismatched.
4.  Add a Folding Screen
Not only does a screen add visual interest, it also helps define open rooms and hide excess clutter.
I can't think where I'd add a screen…so I'll be skipping this one too.
5.  Dress Up Your Drawers
Replace ho-hum cabinet pulls with colorful artsy knobs that coordinate with the rest of your room's decor.
This really intrigues me.  I can think of a few pieces of furniture that would benefit from this.
6.  Warm Up Your Walls
Give your white walls an instant glow with a coat of neutral beige paint.  It won't overwhelm you with color or compete with brightly colored furnishings.
I must be very smart because I already did this when we had the family room and kitchen painted in October.
7.  Rethink Your Accessories
Create a whole new look – with home decor you already have!  Just gather your accessories in a room, then try items in new spaces.
This is a good idea…easy and inexpensive.  I'll do it.
8.  Use a Big Basket
It's perfect for collecting shoes and magazines…plus, if you love it, you can keep it out in the open for the world to see.
Yes!  I'm doing this too.  I need one for shoes…they're all over the house!
9.  Get a Big Look From Small Pieces
Gather different sizes and shapes of paintings, plates, and mirrors to make a collage perfect for hanging above your sofa.
Hmmm.  I might try this on a small wall in my living room.  I need to think about this.
10.  Fall For Pricey Fabric – Guilt-Free
Just pick up a yard – it's all you need to whip up pillows or a tablerunner that's guaranteed to make a bold splash in any room!
This is a good idea.  I always admire the home decor fabrics in the fabric stores.  I could use a bright new tablerunner for a chest in my living room.
What are your ideas?  Do you have any plans for a Spring Spruce Up?
Daily Inspiration
 
We long for affection altogether ignorant of our faults.  Heaven has accorded this to us in the uncritical canine attachment.
George Eliot