April 13
.
Every Saturday, I take you on an Artist Date with me. The Artist Date comes from the book The Artist's Way by Julia Cameron. Here's what she says about the Artist Date:
"The Artist Date is a once-weekly, festive, solo expedition to explore something that interests you. The Artist Date need not be overtly "artistic" — think mischief more than mastery. Artist Dates fire up the imagination. They spark whimsy. They encourage play. Since art is about the play of ideas, they feed our creative work by replenishing our inner well of images and inspiration. When choosing an Artist Date, it is good to ask yourself, "what sounds fun?" — and then allow yourself to try it."
This week, I went to the 100 Center in Mishawaka, Indiana.
The 100 Center is located on the site of the old Kamm & Schellinger Brewing Company. Founded in 1853, the Kamm & Schellinger Brewing Company operated until 1951.
It's a fascinating place with interesting historic buildings and pieces of the brewery equipment set out like sculptures.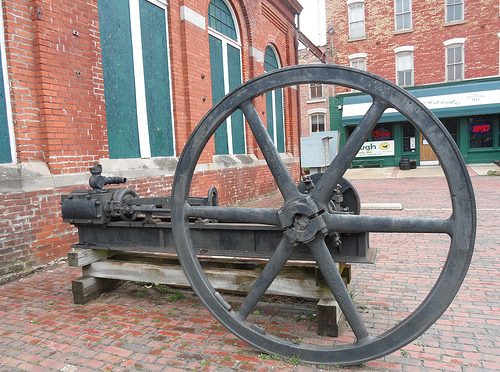 The stamping shows this piece was made in Mishawaka, a reminder of this area's industrial past.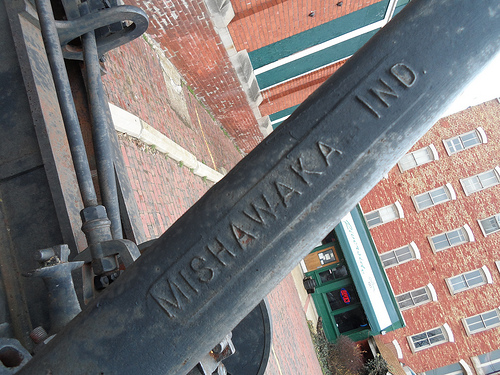 The 100 Center used to have a variety of restaurants, clubs and shops. In fact, I lived in the 100 Center Apartments back in the 1980's.
There are still some restaurants and clubs, but little else. I'm curious what's currently happening here.
The weather was HORRIBLE, so I didn't spend as much time as I would have liked. I'm heading back when the weather is better.