August 21
visit my mother's family in Tennessee.  I can't imagine how many times I've driven past the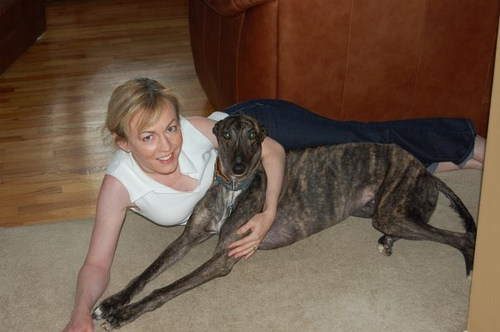 Amy when she first got Miura (or the other way around) 
This month, my friend, Amy, is sharing her favorite things on Tuesday's "Love This" posts.  Amy will tell you that she is a cosmetics junkie, but she's also a savvy shopper, so she unearths some real goodies.  Here are a few of her beauty faves:
Notice how it goes on shimmery and develops color
This is really intriguing to me.  It takes the place of four products–lipstick, anti-aging conditioning lip balm, ultra-hydrating lip gloss and lip stain.  Amy loves it because it brings back the flush baby lips have.  It's a lasting stain, yet doesn't leave a mark on a cup, and it's super moisturizing.  I've got to try this.
 
philosophy Just Release Me Eye Makeup Remover
Amy swears this removes anything, probably even Sharpie.  It doesn't leave an oily residue, so you don't need to to rinse it off, and it leaves the undereye moisturized.  You gotta love an effective eye makeup remover…an absolute essential.
 More pressure = Darker & thicker lines
It Cosmetics Brow Power Eyebrow Pencil
Here's something to ponder…the top 3 signs of aging are thin sparse brows, thin pale lips and dull hair, so if  you have time for anything, do brow pencil, lip stain and hair shine solution.  I want to know why all the "thin" is happening on my face.  I digress.
Before & After
This is Amy's favorite eyebrow pencil.  One shade works for everyone!  More pressure makes darker lines, and there is a brush on the other end so you can groom your brows as a final touch.  Kudos to Amy for providing "real" before and after photos.
DeVita Solar Protective Moisturizer SPF 30+
According to Amy, being the color of skim milk makes her an expert on sunblock.  She told me that she buys this over and over again.  One of the top safest sunblocks according to Environmental Working Group, it is light feeling and leaves no white residue or sunblock smell.  It's organic, vegan, gluten-safe and made in the USA.  In Amy's words, "Best. Sunblock. Ever!"
Daily Inspiration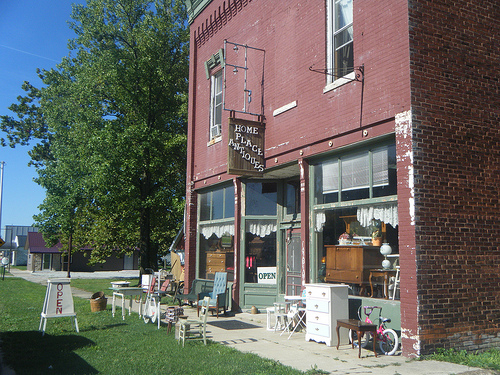 History is who we are and why we are the way we are.
David McCullough
About the photo (taken on August 18)…This little antique store is in Fulton, Indiana.  I pass it when I visit my daughter at Purdue.  I love when I drive by and it's open.