November 8
.
This month is a special twist on 4 Faves – Friends Version.  Every week, I have special guests who will share their favorite things…4 pet and 4 people things.  Today, I'd like to introduce you to one of my newest friends, Declan (also known as Deccy), author of Declan's Dogs Blog.  Deccy was born in Ireland, but raced and retired in England.  I first visited Deccy's blog after I noticed a particularly funny comment he left on another blog.  I've been a follower of his ever since.  Without further ado, I'm pleased to introduce, Declan.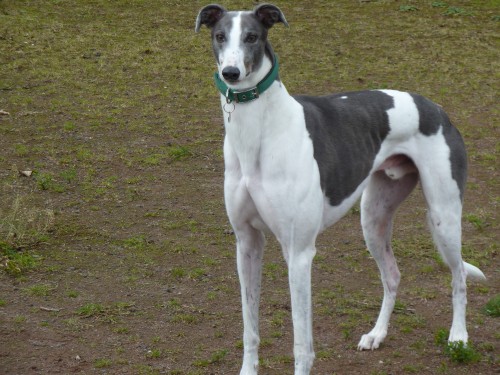 Hi everyone, Miss Lori has kindly asked me to guest blog on the 4 Faves spot. Mum wasn't around, so I've used my initiative (always dangerous…) to come up with her  favourites as well. Anyway, me first!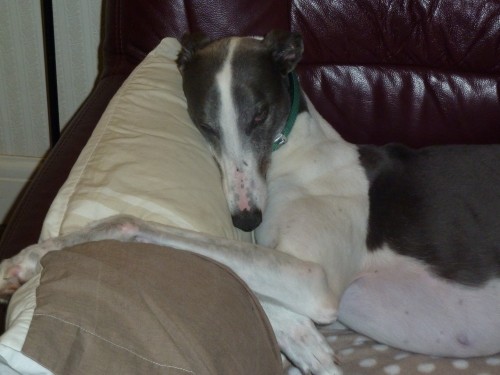 My Pillow
This is me getting comfy on my sofa with my pillow. It's all soft and filled with feathers. Well, I wouldn't want to get a stiff neck!
Chicken Roll
My view of chicken roll: It's really smelly and mushy and sticky and gorgeous. I LOVE it!
Mum's view of chicken roll: It's disgusting and foul and has never been within a mile of a real chicken. It should be banned!
Mum just has no taste. Hehe!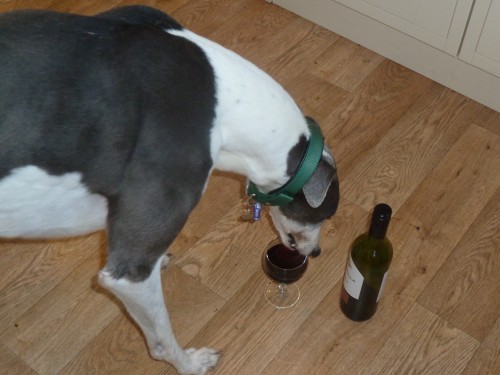 Wine
Obviously I'm not allowed this. a) it's not good for me, and b) I'm not old enough to drink. Fortunately Mum sometimes forgets and puts her glass on the floor whilst watching TV, which means I can sneak up (not easy when you're my size) and steal some! Hic! Clearly I am a Greyhound with sophisticated tastes.
KC
This is my cat KC. I love cats…but I'm not sure I could eat a whole one…Mum says I WILL learn to love her (and she has a bit of a nasty glint in her eye when she says it.) Now what is that chant she's told me to repeat?? " I will not pin the cat against the wall…I will not pin the cat against the wall…"
Now for Mum's list compiled by me…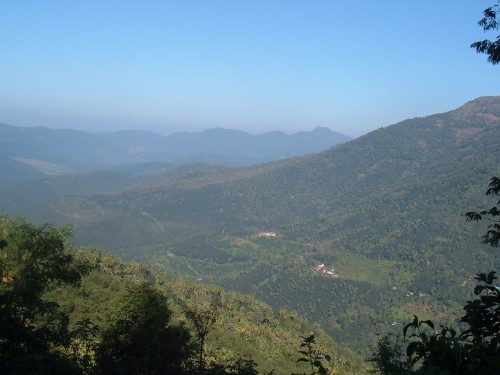 India
Mum loves to travel; she's been all over the place. As long as she realises she's not going anywhere without me! This is a picture over looking the tea plantations in the Western Ghats, Tamil Nadu in southern India. India is Mum's favourite country.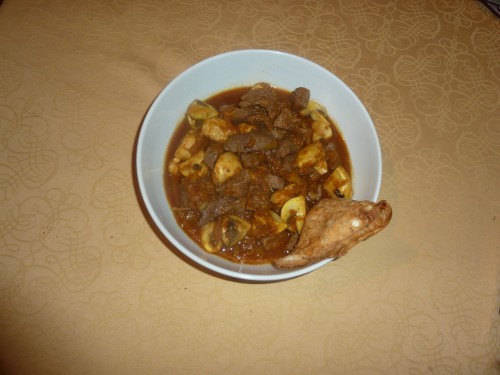 Cooking & Curry
Mum loves cooking  and a real favourite in our house is curry. We have great access to Indian and Pakistani grocery stores, so spices and fresh ginger, chili and coriander are readily available and cheap. This is a Karhai Gosht with a vegetable samosa. I'm hoping she might forget and put this on the floor as well. Hehe!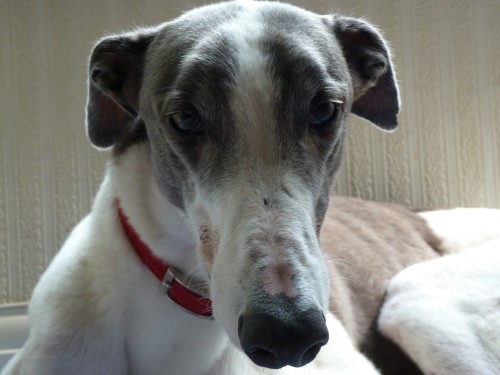 Declan
Well, a list of Mum's favourite things has got to have me in it. Nuff said!!
The Local Pub
This is me in the beer garden of our local pub, The Hare & Hounds. Mum likes to spend an hour or two (or 3 or 4…) here on a summer afternoon, chatting with friends and indulging in the odd pint of beer. I like it too as I usually get a pig's ear.
Thank you, Deccy!  On a side note…when I asked Deccy to be one of my guest bloggers, he very quickly emailed me his guest post and pictures.  You might be interested to know that in between the time Deccy sent me his guest post and today, he experienced a little weakness and didn't heed his own good advice.  Check out this post to see what happened when Deccy decided to pin KC to the wall.  Hope you're all healed up, Deccy!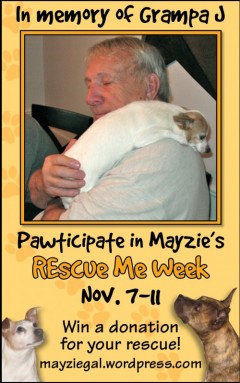 This week, in addition to the Art Every Day Month challenge, I'm participating in Mayzie's Rescue Me Week challenge.  Mayzie is the author of the most fabulous, Mayzie's Dog Blog, and she is going to have a drawing on or about November 16 to award 5 rescue groups $100 each!  Mayzie is doing this in honor of her Grampa J who loved animals all his life.  I'm playing for Allies for Greyhounds of West Michigan, the group who rescued Freedom, Casper and Nikki.  Today, I'm featuring Dave Conrad (aka Dave).
Dave is currently in a foster home, and here's what his foster mom has to say about him:
"This guy will make a great addition to any type of family. I think he would do well as a single dog or with a pack. He likes everybody, sweet natured, happy and trusting. I think he will be fine with kids because he likes to play. He settles down quickly when told to do so."
To find out more about Dave and other Greyhounds waiting for their forever homes, go the the Allies for Greyhounds of West Michigan website, click on "Adoptable" on the left-hand side and scroll down the list.  If a dog is in foster care, you can click on their picture and you'll see a link that says "Foster Profile."  The Foster Profile will give you even more information about that particular dog.  Found one you want to join your family?  Click on the "Apply" link on the left-hand side and fill out an application.
 Art Every Day Month – Day 8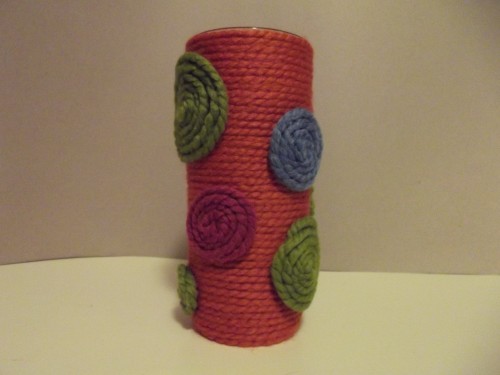 Burnt Orange Yarn Vase