July 12
.
When I did my first "4 Faves – Friends Version," Bunny, from Tales and Tails, suggested that Freedom and Casper should do their 4 Faves.  I thought that was a great idea, and when I told Freedom and Casper, they were very excited and said they could even agree on their 4 favorite things.  I should have suspected something was amiss.  Well, I can't go back on my promise so here they are, Freedom and Casper's 4 Faves (descriptions provided by Freedom and Casper).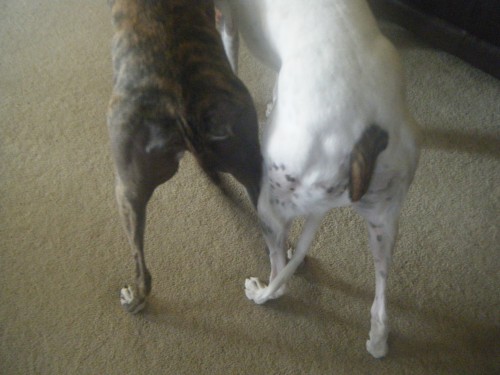 Butts
Best way to get to know someone new or make sure an old friend is really who they say they are.  Butts don't lie.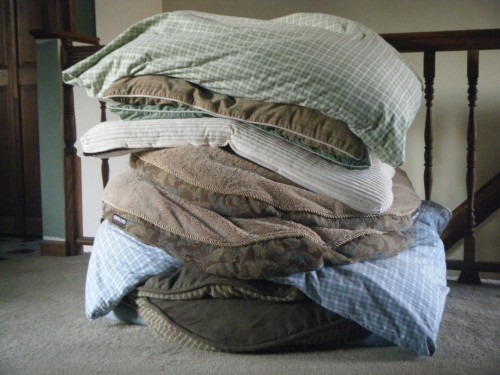 Beds
2 Greyhounds + 10 Beds = Not Enough Beds!  You can never have too many of these things.  We like them best all over the house.  We're both "fluffers," so we prefer a bed that lends itself to fluffing.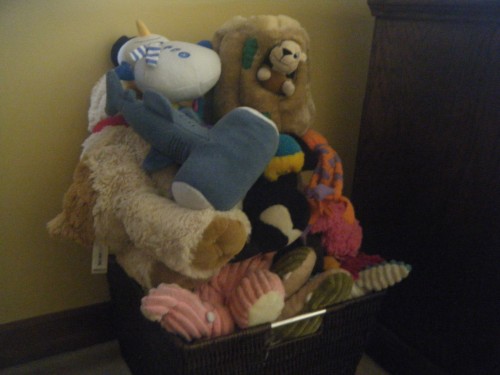 Toys
Like beds, you can never have too many of these.  Also like the beds, we like them best all over the house.  We feel it makes our mommy feel less sad about her daughter being grown-up if we make it look like she's living with a couple toddlers.  See that basket way down at the bottom of the picture?  That was suppose to hold all our toys…yeah, right!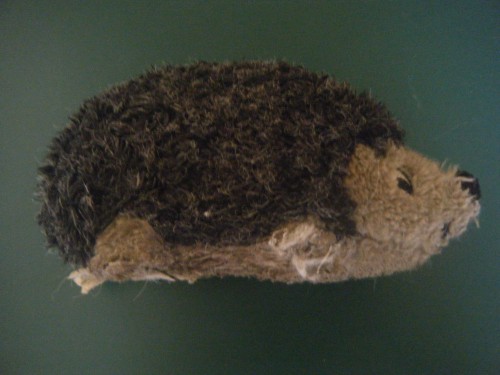 Freedom's favorite hedgehog.  It's even grosser than it looks.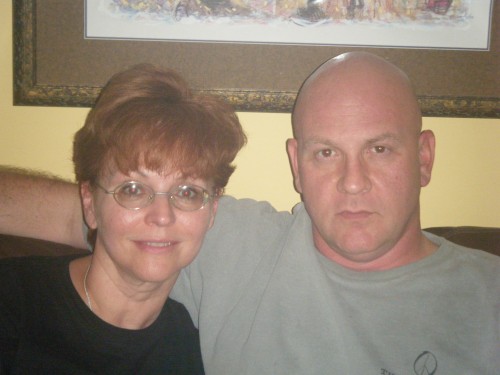 Daddy & Mommy (Pssst…aka our slaves)
Don't let their looks fool you.  The friendly looking one on the left can pose a few problems because she gets ideas that she's in charge of us.  The mean looking one on the right…total slave…does EVERYTHING we want.
Casper's Nightly Massage
Lovin' On Freedom
Alright then…that's Freedom and Casper's 4 favorite things.  Next time, I'm going to add a few stipulations.
SEE, we told you she's the bossy one!
SPECIAL ANNOUNCEMENT
The month of August will be "4 Faves – Friends Version."  What are your favorite things?  Tell me about them during the month of July and one (or more) of your picks may be chosen as a "favorite" in August.  You can let me know what you like in one of three ways…post a comment, email me (whatremainsnow@gmail.com), or let me know on the What Remains Now Facebook page (either by commenting or writing on my wall).  Tell me what the item is and why you like it.  Want to see what "4 Faves – Friends Version" looks like?  Check out this post from May.