August 30
.
August's 4 Faves all come from my friends.  Check out what they like.
My beautiful friend, Amy, with Miura and Zonda
This week's favorites come from my friends, Amy…she has the first three; and Bunny of Tales and Tails…she has the last one.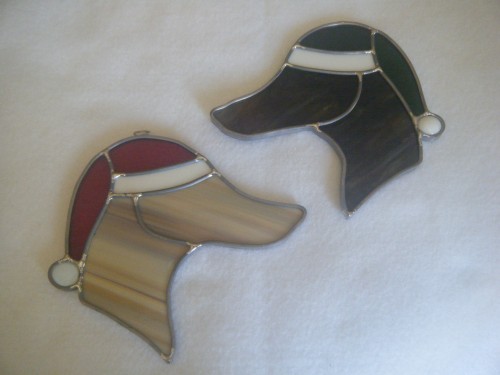 Look at the picture above, then look at Zonda & Miura below.  Aren't these perfect!  Greyt Glass offers glass panels, ornaments, suncatchers and inlaid glass stepping stones.  Check out their website or "like" them on Facebook.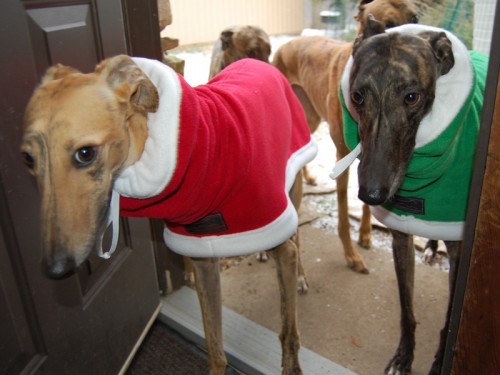 When I spoke with Amy about why she loves Ginis Greyhound Fashions, "Customer service, customer service, customer service." Other reasons…coats are made to custom measurements, which means a fabulous fit, and fantastic fleece color combinations, that you get make.  Don't you love Zonda and Miura's Santa coats!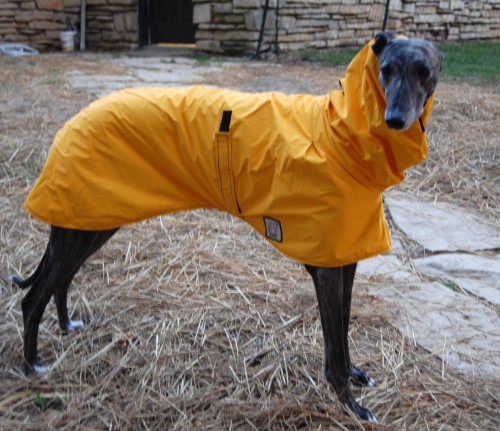 Voyagers K9 Apparel Greyhound Raincoat
Amy loves the Greyhound raincoat from Voyagers K9 Apparel.  Why?  It has front pleats for easy mobility, the hood covers without binding (very important to Miura), it offers great coverage, it has a reflective safety strip across the back for better visibility, and Amy loves the school bus yellow…a classic color in rain slickers.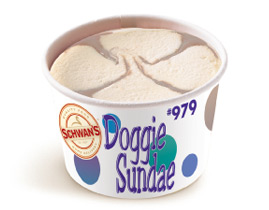 Ice Cream
Bunny recommends ICE CREAM as a favorite.  I think we're all with you there, Miss Bunny.  Bunny's favorite (and Lilac's, and Blueberry's and Morgan's) is Schwan's Doggie Sundaes.  Yum!  Visit Miss Bunny and all the Tales and Tails girls here.
This is the final installment of 4 Faves – Friends Version.  But don't worry, it's not the end.  I'll do another "Friend Version" in November.  Thank you to everyone who shared their favorite things this month.