August 23
.
August's 4 Faves all come from my friends.  Check out what they like.
This week's favorites come from my friends, Amy…she has the first three; and Carrie (Tales and Tails)…she has the last one.
The Particular Sadness of Lemon Cake
What if you could taste the emotions of whoever prepared your food.  What would you do with the insight this would give you into people's secret emotions?  That's the premise behind The Particular Sadness of Lemon Cake by Aimee Bender, a story that Amy found fascinating.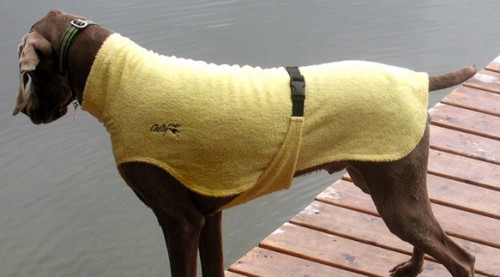 Soaker Coats
Soaker coats are handy dry or wet.  Used dry, a soaker coat is great after a bath or a swim.  Used wet, a soaker coat can help keep your doggie cool on hot days outdoors.  The soaker coat pictured above is from Chilly Dogs.
Speaking of Chilly Dogs…Amy loves Chilly Dogs coats.  Why?  They offer an "Easy On, Easy Off" design; the coats cover your dog's chest; and the fit is superior because they're made to the exact measurements of your dog and sport an adjustable buckle system that allows you to securely fasten the coat around your pup's body.  Plus, look how attractive they are.  The lovely model…that's Shadow, one of Amy's former foster dogs.
Vintage Bikes
A favorite of Carrie's…vintage bikes.  Want to see more items with the vintage bike motif (or any other motif you can think of), check out Etsy.  The stunning model in the picture below…that's Bunny.