November 15
.
November is the final month of 4 Faves – Friends Version for 2011, so that calls for something special.  Every week, I have special guests who will share their favorite things…4 pet and 4 people things.  Today, I'd like to introduce you to Mayzie, author of Mayzie's Dog Blog.  Mayzie was rescued from a bad situation by her Angel Donna Fostermommy.  You can read how Mayzie was rescued and adopted by clicking on the links (it is a story worth reading).  I met Mayzie through Puddles (We Three Doxies), and I was immediately struck by her sweet, optimistic personality.  I've been a follower ever since.  Mayzie isn't the only one over at Mayzie's Dog Blog…there's Brudder Ranger and Abby (the kitty).  It is my great pleasure to introduce you to Mayzie and her mom.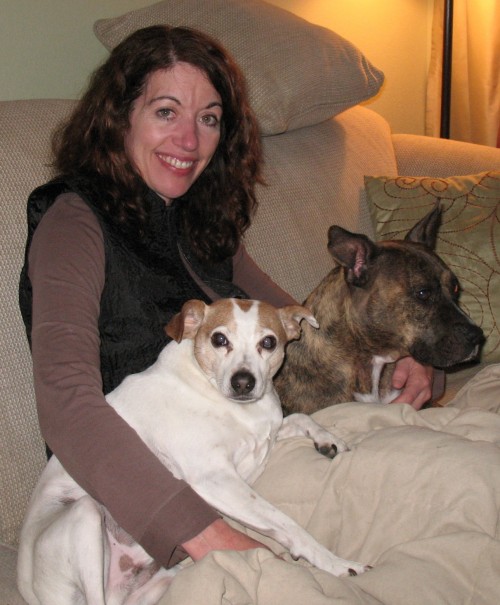 Mayzie and I were thrilled when Lori contacted us about doing a guest post about 4 of our favorite things. We love her blog and her creativity and felt honored to be asked. We immediately put out heads together, but unfortunately (and not surprisingly), we came up with very different favorite things.
MayzieMom – Breville BJE200XL 700-Watt Compact Juice Fountain
While I try to lead a healthy lifestyle, I've always had trouble getting in my 5 fruits and veggies a day. I started reading up on juicing and decided that this might be the solution to my problem. After doing a lot of research on juicers, I settled on the Breville BJE200XL. Hard-core juicers will probably shake their heads in dismay because it is a centrifugal juicer, not a masticating juicer (centrifugal juicers generate more heat, which kills some enzymes). However, I knew that for me to use it, it would have to be both quick and easy to clean. This juicer is both and it is one of the more reasonably priced juicers on the market, with lots of great reviews on Amazon. Now, getting my 5 fruits and veggies a day is easy – and tasty! $99.99 from Amazon.
 
Mayzie – Tripett Green Tripe
Okay, I don't really likes fruits and veggie-tables and I sure as heck don't like 'em all runny so I dunno why my mom picked that. If she really wanted something tasty and good for her, she'd put Tripett Green Tripe on her dinner! This stuff is SO good, it makes me all drooly, even while it's still in the can. Plus, mom says that it's all-natural and it's got all kinds of good things in it that make my coat shiny, my teeth whiter, and can help dogs that have the itchies. But all I care about is that it's DEE-lish! $2 a can from Amazon.
MayzieMom РNamb̩ Tri-Corner Bowl
I first fell in love with Nambé products 20+ years ago on my first trip to Santa Fe. I was enchanted with the elegant, graceful designs and the rich beauty of the alloy it's made from. However, it wasn't until recently that I received my first piece of Nambé as a gift and it is displayed proudly on my dining room table. Nambé Mills, Inc. has a long, rich history dating back to 1951 when it was founded near Santa Fe during Modernism's mid-century movement. Created from a proprietary alloy that does not contain silver, lead, or pewter, it is safe for cooking and serving. I am always amazed at the masterful way their designers are able to craft pieces that are as functional as they are beautiful. While not inexpensive, these are the types of pieces that will be handed down from generation to generation. Starting at $79.99 from Nambé.
Mayzie – Stoneware Dog Dish
Well, that bowl is pretty and all but mom won't let me or my Brudder Ranger drink OR eat out of it! Can you imagine? Now if you really wants a bowl that's pretty AND useful, check out our water dish! It's nice and heavy so we don't knock it over (and makes for some bark-out-loud moments when mom stubs her toe on it). It's made out of something called "Sir Amick" so it's easy to keep clean and keeps our water cool. And it's blue inside so it makes our water look pretty, too! PLUS, it's lots less green papers than mom's bowl. So tell me, which bowl would YOU choose? $5.99 from Amazon.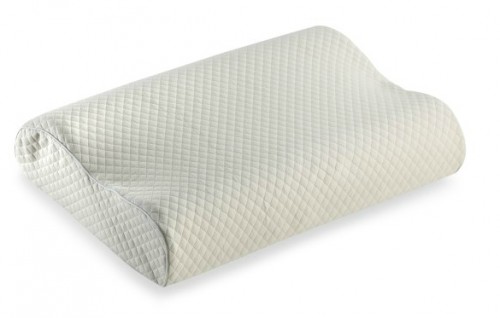 MayzieMom – Therapedic Deluxe Contour Memory Foam Pillow
I'm a side sleeper and for years, I've had pain in my right shoulder when I woke up. I could never find a pillow with enough support that was actually comfortable enough to sleep on. I'd been intrigued by the contoured pillows but had a hard time justifying spending that much money on a pillow. One day, when I received the ubiquitous 20% off coupon from Bed, Bath & Beyond, I decided to take the plunge. And I am SO glad I did! It's made a huge difference in the quality of my sleep and I no longer wake up with achy shoulders. Worth every penny! $59.99 (or $47.99 with coupon) from Bed, Bath & Beyond.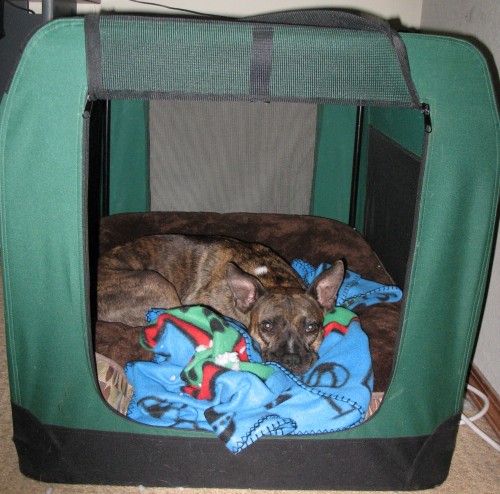 Mayzie – Guardian Gear Soft-Sided Collapsible Crate (aka My Condo)
Hmmmm…I don't know anything abouts pillows but if you REALLY wanna be comfy, this is the way to go. This condo is super luck-sure-ee-ous! It's nice and roomy, has lotsa windows to look out of, and has a zippered door for whenever you wanna spend some time alone without your neighbors bothering you. PLUS, since it's got soft sides, it can go wherever you go. It takes just a few minutes for your humans to fold it down flat and then set it up again when you get where you're going. How nifty is that? Starting at $39.99 from PetEdge. 
MayzieMom – The Other End of the Leash
When we adopted Mayzie, she had lived her whole life tied up in someone's back yard. Because of her lack of socialization, she was scared of pretty much everything. I knew the old theory of "dominating" your dog wouldn't work with her. She was too scared, too shy, and too soft. Plus, it just never sat right with me. Luckily, I discovered this wonderful book by animal behaviorist Patricia McConnell. In an entertaining and engaging way, she explains how different our primate body language is from our dogs', and how easily our actions might be misinterpreted by them. She puts the emphasis on OUR behavior (you know, the ones with the supposedly big brains) and how we can use our voice and body to more effectively communicate with our dogs, all the while strengthening our relationship with them. If I could just recommend one book to dog owners, this would be it! $10.88 from Amazon.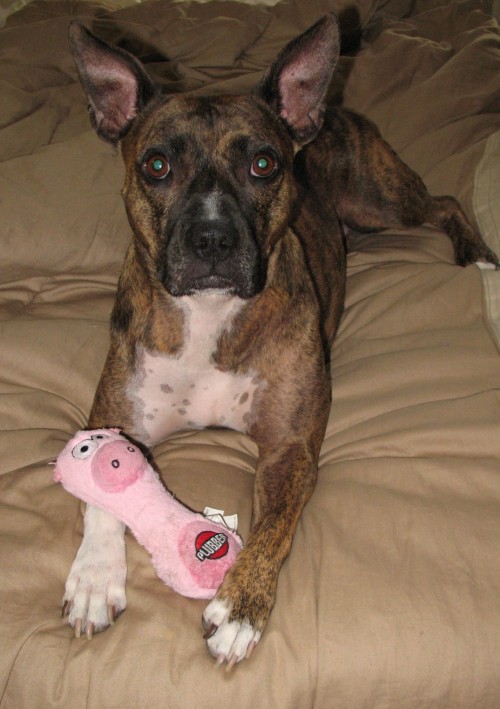 Mayzie – Plubber!
I know humans like to entertain themselves by sitting around and reading books and stuff. But why do that when you can PLAY? Now, I don't mean to brag but I'm a master de-stuffer. This is Most Impawtant to do so that you protect your family from whatever skeery, dangerous thing might be lurking inside. But with a Plubber, you don't have to! It's got a nice soft squishy body and it's covered with the same kinda stuff they cover stuffies with. But there's no STUFFING inside! So you can chew on it and play tug with it to your heart's content and sleep really good at night knowing your pawrents are safe from Stuffing Monsters. $8.99 from PetSmart.
Well, there you have it! I sure hope you liked all our favoritest things (even my mom's, no matter how kinda boring they were).
Thank you, Mayzie!  That was an awesome list.  And…Happy Anniversary to Mayzie's mom and dad.  They celebrated 19 years together, yesterday.
Last week we participated in Mayzie's "Rescue Me Week."  If you want to check out all of the pets featured during "Rescue Me Week," head over to Mayzie's blog.  They are all listed on the right-hand side.  Guess what, Vandyke has a forever home!
Art Every Day Month – Day 15
 
 "Create" Canvas