April 5
Yoo-hoo
Yoo-hoo has a distinctive taste…distinctively YUMMY.  The container says that it's a "Good Source of Vitamins and Minerals."  You've got to be kidding!  I'm not thinking about vitamins and minerals when I'm drinking Yoo-hoo and you probably shouldn't be either.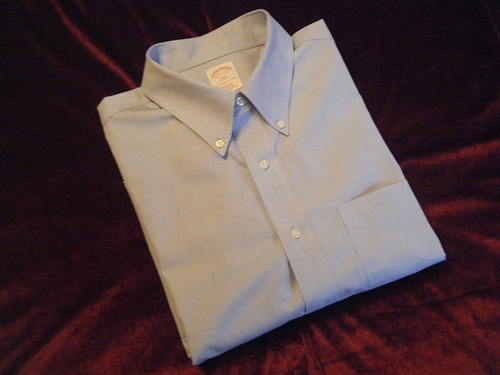 No-Iron Shirts
I LOVE these.  I used to take my husband's shirts to be laundered and pressed.  His shirt looked good in the morning, but was all rumpled up by the time he got home from work…and it cost money to get this look.  The beauty of no-iron shirts – machine washable (saves $), a little tumble dry, hang up, looks nice in the morning, still looks nice in the evening.  Now that's a product that offers a lot.
Hollywood Fashion Tape
This helps prevent fashion malfunctions.  Hollywood Fashion Tape is essentially, double-sided tape.  What makes it great is it really holds and it comes off your clothes nicely  before laundering.
Bottle Brush
This is one of those items you don't appreciate until you need it.
SPECIAL ANNOUNCEMENT
The month of May will be "4 Faves – Friends Version."  What are your favorite things?  Tell me about them during the month of April and one of your picks may be chosen as a "favorite" in May.  You can let me know what you like in one of three ways…post a comment, email me (whatremainsnow@gmail.com), or let me know on the What Remains Now Facebook page (either by commenting or writing on my wall). Tell me what the item is and why you like it.  I can't wait to hear from you!