April 12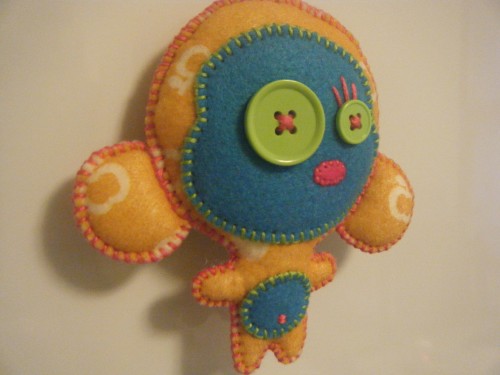 The Eleventh Monkey
Louana is the creator of The Eleventh Monkey…an awesome blog and Etsy shop, home to "a bunch of slightly awkward felt creatures."  Louana also was a student with me in Indie Business 3.0.  Recently, I became the proud owner of Ringo.  Louana's work is imaginative, original and meticulous.  Ringo will be getting some "friends" in the future.
Lint Roller
I've never found anything that removes lint better than these big sheets of "tape."
Bag Clips
Bag clips are functional, but they can be fun too!  I like to have a variety around.  Fun favorites…the frog heads and the Idaho potato.  Functional favorites…Oxo never disappoints.
Anti-Tarnish Lining
I wouldn't have a jewelry box or pouch without this now that I've gotten spoiled.  It keeps your clean silver jewelry tarnish-free for 25+ years.
REMINDER
The month of May will be "4 Faves – Friends Version."  What are your favorite things?  Tell me about them during the month of April and one (or more) of your picks may be chosen as a "favorite" in May.  You can let me know what you like in one of three ways…post a comment, email me (whatremainsnow@gmail.com), or let me know on the What Remains Now Facebook page (either by commenting or writing on my wall).  Tell me what the item is and why you like it.  This is going to be fun!