February 8
Avon
Avon has a variety of products at reasonable prices.  What I love best about Avon…my Avon Lady.  Dorothy was my first; now Lavon is my Avon Lady.
Method Tub-N-Tile
Love the smell of this (fresh) and it actually cleans the soap scum.
O-Cel-O Cleaning Pad
These are pretty, plus cheese, egg and all those other sticky things don't stick to the scrubby part.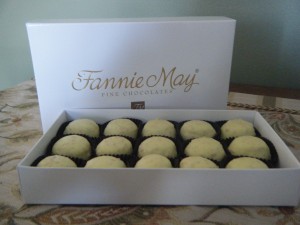 Fannie May Trinidads
One word…YUM.