May 16
.
Typically on Mondays, I post a painting "inspiration," then on Thursdays, I post how I interpreted the inspiration, but I'm taking a two week break from painting and crafting in order to recharge my battery. I thought this might be a good time to write my Artist Statement.
Sculpture by Jaume Plensa onboard Celebrity Constellation
An Artist Statement is a basic introduction of you as an artist. It generally covers such things as why you make your art, what inspires you to make it, what it signifies or represent, how you make it and what it means to you.
Artist Statements are often required when applying for art fairs or when approaching a gallery or store. They can be included on your website and on printed material. You can also use your Artist Statement to craft your "elevator speech" which is a description of your art that can be enthusiastically delivered in a sentence or two within 15 to 30 seconds.
I found a helpful guide on Molly Gordon's website titled How to Write and Use an Artist's Statement. It encourages you to "Think of your artist's statement as a nourishing stew. The rich flavors and inviting aroma will feed your spirit and summon wonderful people to your table. You'll want to make sure your stew is made from the freshest, finest ingredients and that it has been simmered and seasoned with care. Do this, and you will be proud to share your creative vision with others."
The steps are:
Step One: Assemble the Ingredients.
Step Two: Filling the Pot.
Step Three: Assembling the Stew.
Step Four: Taste and Correct the Seasonings.
Step Five: Summon the Guests.
Step Six: File Your Recipe!
Next week, I'll debut my Artist Statement.
How to be HAPPY!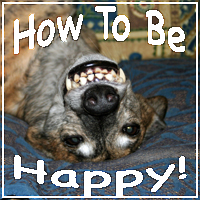 Every Thursday, Jay of The Depp Effect, posts something that makes her happy, and I'm playing along. She encourages us to look around and notice the things that make us happy. I enjoy this challenge because it makes me consider the things that make me happy, but are easily overlooked. It's a wonderful exercise in attention and gratitude. Please grab the badge and join in.
Here's something that makes me happy…COLOR INK.
It's fun, it's pretty, and it makes you feel more creative.