July 30
.
Nikki: Did I hear the mail carrier? Anything for us?
Mommy: Look at this! You all received a box from Be Pawsitive.
Nikki: What's Be Pawsitive?
Mommy: Be Pawsitive is a monthly subscription box of organic dog treats. Every month, you get a new flavor of Be Pawsitive Treats, delivered right to your door.
Mommy: Be Pawsitive Treats have all the things we love:
1. Made in the USA
2. Wheat-free and made with all natural ingredients that are certified organic.
3. Small batch baked (for quality control) in flavors dogs love.
Freedom:Â So what exactly is in the box this month?
Mommy: The treats are Power Berry this month.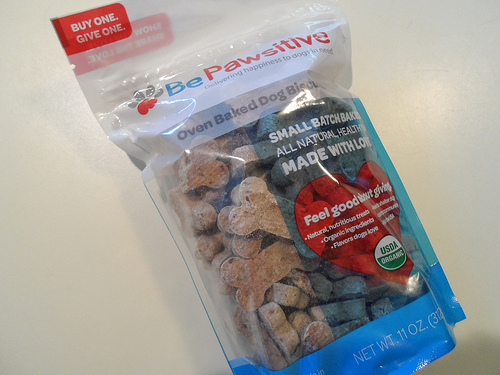 Mommy: We also got some extra goodies…a "thank you" card, a coupon for a free pet ID tag from Just4MyPet, an edible card by Crunchkins, and a sample of Dog Paws Lotion Bar by My Dog Paws.
Freedom: Please throw the soap away.
Mommy:Â It's not soap, it's a lotion bar for your paw pads.
Freedom:Â Okay, as long as it doesn't involve water or changing my lovely natural smell.
Casper: What does this mean on the package? Buy One. Give One.
Mommy: That's one of the coolest things about Be Pawsitive. When you order an individual box or a subscription for yourself or as a gift, a box is sent to an animal shelter or rescue organization. Every box that is purchased has a matching box that is sent out to doggies in need.
Casper: That is so cool! I love getting treats and knowing that pups who are waiting for their forever homes get treats too. Be Pawsitive is a good idea. Also, we want everyone to know that we got a free Be Pawsitive box to test and review, but our opinions are all our own. We give Be Pawsitive "all paws up."