March 24
.
Inspiration:
Supplies:
Buttons
Wire (I used 24 gauge green florist wire)
Wire Cutters
Glue
Green Excelsior
Clay Pot
1.  Arrange the buttons into flowers.  Cut wire for each flower.  I cut my lengths about 12″ long.
2.  Using the wire like thread, assemble your flowers.  Twist the wire together to create the stems.
3.  Arrange the flowers into a bouquet.  Twist the stems together.
4.  Trim the excess wire from the bottom.  Apply a generous amount of adhesive and glue the bouquet into the bottom of the clay pot.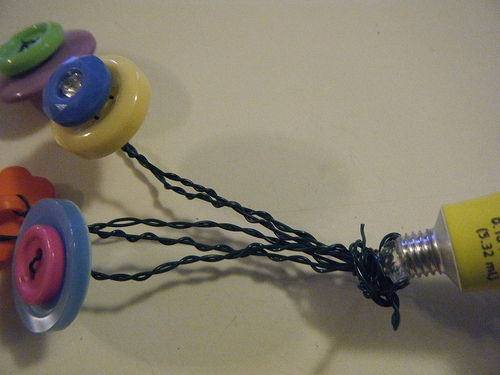 5.  Add a little green excelsior or moss.  What a sweet little pot of flowers.  All ready for Spring!