November 10
.
Inspiration:
Martha Stewart – Button Wreath Ornament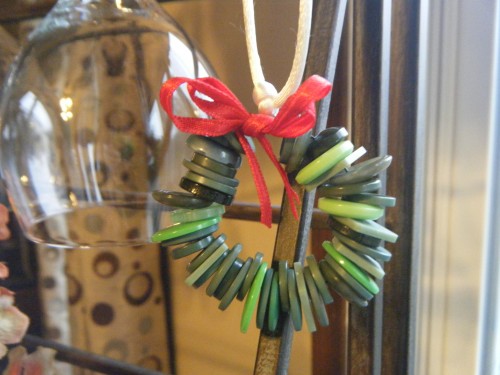 Supplies:
Wire ( I used 22-gauge green floral wire)
Needle-nose pliers
Buttons (I used about 50)
Scissors
Ribbon for hanger and bow (I used rattail for my hanger)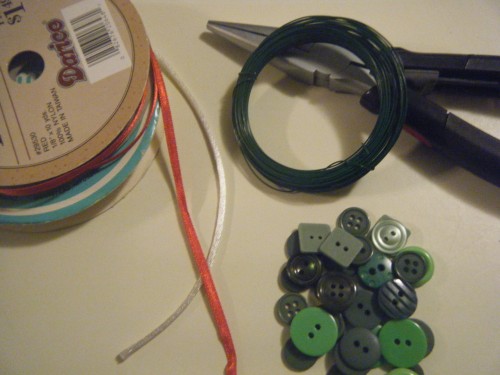 1.  Cut a length of wire.  I cut a length of 6 inches.  Using the pliers, make a loop at one end of the wire.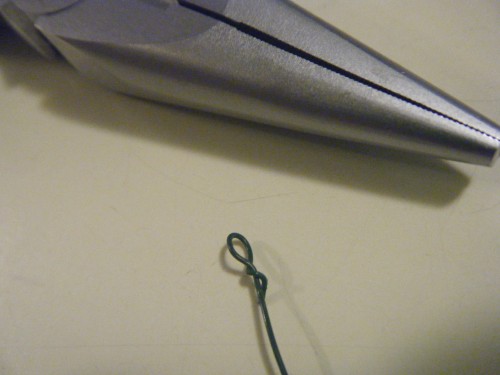 2.  String on the buttons.
3.  Using the pliers, bend the straight end of the wire around the looped end.  Attach a length of ribbon for the hanger.
4.  Tie on a pretty bow, and it's all done.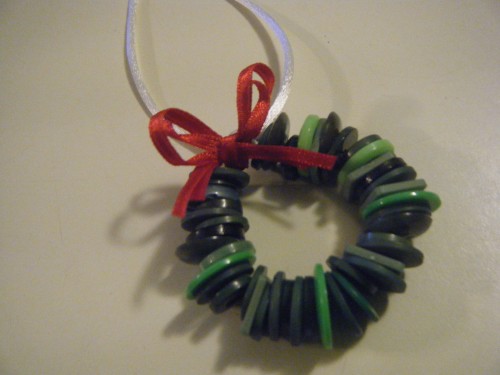 Like the Buttons Christmas Picture, you can do these big or small.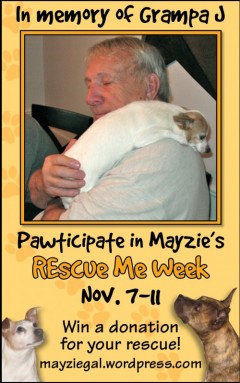 This week, in addition to the Art Every Day Month challenge, I'm participating in Mayzie's Rescue Me Week challenge.  Mayzie is the author of the most awesome, Mayzie's Dog Blog, and she is going to have a drawing on or about November 16 and award 5 rescue groups $100 each!  Mayzie is doing this in honor of her Grampa J who loved and cared for animals all of his life.  I'm playing for Allies for Greyhounds of West Michigan, the group who rescued Freedom, Casper and Nikki.  Today, I'm featuring Hank Moody (aka Moody).
Moody is currently in a foster home, and here's what his foster mom has to say about him:
"Moody is a shy boy at first. It took him a few weeks to really come out of his shell. He's a very happy, playful boy now. He loves his toys, he loves pets from the humans, and he"ll approach me for attention. He gets along great with the other animals here (dogs, cats, lizards and fish). He also doesn"t mind being crated for a typical work day so he'd do well in a working family. He walks nicely on leash, but the outside world still spooks him at times. He hasn"t had any accidents in the house and is starting to use his "Alligator Snap" more often now. He'll need a fenced in yard in his home simply because he's still a bit spooky at sudden noises, especially on walks. He's a sweet, lovey boy that can"t wait to find a family."
To find out more about Moody and other Greyhounds waiting for their forever homes, go the Allies for Greyhounds of West Michigan website, click on "Adoptable" on the left-hand side and scroll down the list.  If a dog is in foster care, you can click on their picture and you'll see a link that says "Foster Profile."  The Foster Profile will give you even more information about that particular dog.  Found one you want to join your family?  Click on the "Apply" link on the left-hand side and fill out an application.
 Art Every Day Month – Day 10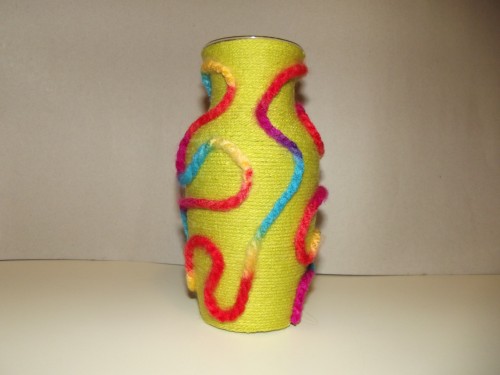 Green Yarn Vase