March 25
.
Last night, I went to the Camp Millhouse Dinner & Auction.  Camp Millhouse is a camp for children and young adults with mental and physical disabilities.  Camp Millhouse was founded in 1937 and is located on 45 acres just south of South Bend, Indiana.  It is wholly supported by the community through fundraisers, monetary donations and campers' fees.
I love this evening.  I get to spend time with my parents, eat Polish buffet, bid the silent auction and support a wonderful organization.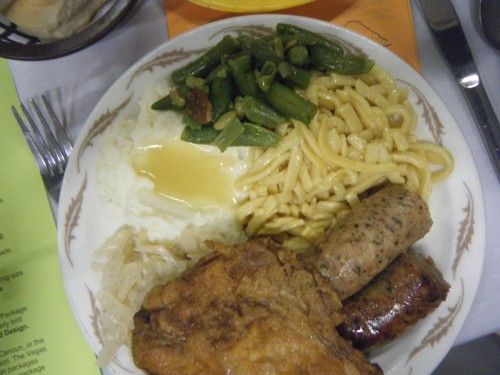 Polish Buffet in South Bend, Indiana is Polish sausage, chicken, sauerkraut, mashed potatoes and gravy, noodles, green beans and dinner rolls, and I LOVE IT.
I had a great time with my dad and mom.  We were out until 10 pm…which is like midnight to me and 2 pm to my folks.  We are party animals!
Daily Inspiration
 
There are two lasting bequests we can give our children.  One is roots.  The other is wings.
Hodding Carter, Jr.