October 4
.
Last month, I spent four weeks agonizing over my inability to do anything with my photos.  I came up with a plan to start small and do an 8″ x 8″ album of "School Memories."  I choose this topic because:
1.  I have a limited amount of pictures and memorabilia.
2.  It has a very distinct timeline.
This week I gathered up my photos and memorabilia.
 
What I kept:
School pictures (individual and class)
Report cards
A few snapshots that have meaning to me
Newspaper clippings
School programs that I have distinct memories of
School papers (my first full length story, poetry, creative writing)
Graduation invitation & cards
Booklets that have information on the history of the schools I attended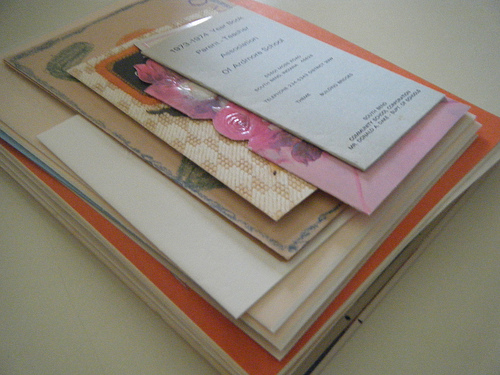 What I got rid of:
Duplicate school pictures
Snapshots that were blurry or didn't have any significance to me
School programs of events I have no memory of
School papers that don't have any meaning to me (tests, a report on the planet Mercury, drawings that I don't remember doing)
Cards that weren't important to me
I tried to keep in mind that I want to tell a story.  When I was going through my "treasures" I asked myself, "Does this support or add to the story I'm trying to tell?" 
Daily Inspiration
 
Education is simply the soul of a society as it passes from one generation to another.
 
Gilbert K. Chesterton