October 9
.
We speak a common language, but not every American can appreciate British comedy.  I am one that can and does.  These are five British sitcoms that I love.  This is not an all-inclusive list, just a little snapshot of some shows that have made me laugh…a lot.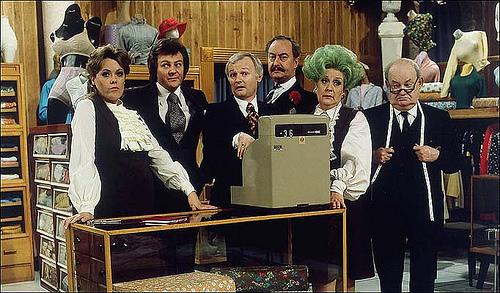 "Are You Being Served?"
This  show was my introduction to the brand of humor that is uniquely British.  The show ran from 1972 to 1985 and is set in the ladies' and gentlemen's clothing departments of Grace Brothers, a large, fictional London department store.
Fawlty Towers
Fawlty Towers was broadcast in 1975 and 1979 and only had 12 episodes.  The series is set in Fawlty Towers, a fictional hotel in the seaside town of Torquay.  The show centers on the tense, rude and put-upon owner Basil Fawlty (John Cleese) who also co-wrote the series.
Waiting for God
Waiting for God ran from 1990 to 1994 and focuses on two lively resident of a retirement home who spend their time butting up against the home's oppressive management and their own families.
Keeping Up Appearances
Keeping Up Appearances centers around Hyacinth Bucket (pronounced Bouquet, according to Hyacinth) an eccentric, social-climbing snob whose working-class family is a constant source on embarrassment (and laughs).  Keeping Up Appearances ran from 1990 to 1995.
The Vicar Of Dibley
I love Dawn French who plays Geraldine Granger, a female vicar who is assigned to a small Oxfordshire village called Dibley.  Fun-loving and outrageous, the vicar has her hands full with the Parish Council.  The show ran from 1994 to 2007.
I first enjoyed these British sitcoms thanks to my local PBS station.  Do you have a favorite British sitcom?
Daily Inspiration
 
At the height of laughter, the universe is flung into a kaleidoscope of new possibilities.
Jean Houston