January 6
Inspiration:
Creative Matting and Framing by Trice Boerens – Pg 48 (Once Upon a Time Mat)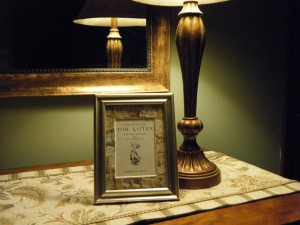 Supplies:
Old Book
Mat & Frame
Adhesive
Scissors (I used deckle-edge scissors)
1.  Tear into pieces words and images from the book and arrange them on the mat.  I wanted the images to go completely around the inner edge of the mat; so I first glued down large pieces directly on the inner edge, then didn't have to be so particular when I trimmed and glued down the pictures that I wanted from the book.
2.  Trim the pieces, apply adhesive to the backs and press in place, overlapping the edges.
3.  Wasn't that easy?  You now have a beautiful, handcrafted picture frame mat.