March 6
.
I love a clever idea. Several weeks ago, I did a post, New Favorite Notions, and Veronica of Yes I Know, My Dogs Look Funny, mentioned that she stores and organizes Bettina and Blue's collars on a pants hanger she picked up at Target.
It has 5 different "levels"…
…and the hanger arms swing out to allow you to hang your pants, or slip your martingale collars on.
I thought, "Why didn't I think of that?" Then I thought, "Wonder what other clever ideas my friends have for using something intended for one purpose for something entirely different?" Here's what you told me:
Madi's Mom of Madi and Mom Down Home in NC immediately thought of a Welch's Concentrated Grape Juice can used as a biscuit cutter by her mother-in-law, Grandma Margie.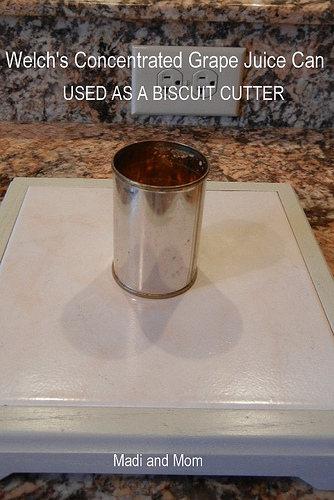 Madi's Mom still has that little can. Here's what she told me…"We have been married for 43 years…she was using this can when we were dating, so it is probably 45 years old.  My daughter used to marvel at the precise size of each biscuit and often helped Grandma cut them. My mother-in-law, Margie, was a dear lady. I also treasure two of her handwritten recipes, especially  the one for gingerbread."
Madi's Mom also remembered that, "Grandma Margie was the person who taught me to put a few holes in the bottom of juice cans and cranberry sauce cans to get the contents to come out whole."
Daisy, Bella & Roxy of Downunder Daisy mentioned that some of their mom's pottery serving bowls have ended up as hold-alls for loose screws, paper clips, rubber bands and anything else she doesn't want to throw out.
Georgia Little Pea's mom also had a great idea for re-purposing…"I use our old quilt covers or extra fitted sheets as Georgia's bed covers. They're big enough to be used 4 times over (4 different sides) so saves washing." Georgia Little Pea's blog is Little Dogs on Long Leashes.
Sue of Graceful Greyhounds mentioned that dolly pegs are ideal for wrapping ribbons round. Not only a great idea, but I learned that dolly pegs are what I call old-fashioned clothespins.
Urban Hounds hasn't made one yet, but said that she loves the Kindle (e-reader) covers made of old books. Chick-Lit Designs has a bunch of cool covers and you can find tutorials online if you want to make your own.
Jay of The Depp Effect had several great ideas…"We use a pretty but cracked mug to hold teaspoons near the kettle, and also a placemat under the mugs when we make tea, to catch the drips."
"We also use those free plastic grocery bags for peeling vegetables into, so once you're done, you can pick the whole thing up and empty it into the compost bin – or if you don't have one, into the waste."
Lynne of Dip-Dip and The Bridge might have the most unique idea for taking something intended for one purpose and using it for something entirely different. She uses yarn for plants.
Well, she works a little crochet magic on the yarn first.
Thank you, to everyone who submitted these great ideas. I also want to mention that at the very last minute, I emailed everyone (except Urban Hounds & Georgia Little Pea) and asked if they had the time, would they send me a photo of their idea. I hoped that I would get a few, but since I waiting so late, I would have completely understood if I didn't get any. Everyone, EVERYONE, replied back to me. Bloggers are the kindest people. Thank you all, again!