October 26
.
You may have heard me mention our lovely vacation to Greyhounds Reach the Beach in Dewey Beach, Delaware, once, twice or even three times.  Greyhound owners can be a little intense with their love of the breed, and I'm finding that intensity extends to Greyhound accoutrement…namely collars.  So, a big part of my vacation shopping time was consumed with collar-mania.
I knew that all the hounds at Dewey Beach would be dressed in their best, so I made sure Freedom, Casper and Nikki had fabulous "Beach" collars.  I fell in love with these batik fabric collars from Around the Hounds.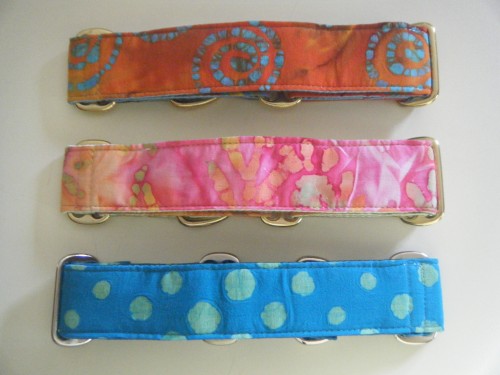 Pinwheels, Tutti Frutti and Turquoise Dot
Before Dewey Beach, Freedom and Casper had two fancy collars each – Dress and Patriotic.  I wanted to catch Nikki up, so my first purchase was this lovely pink silk collar from Around the Hounds.  I couldn't decide on a "patriotic" collar for Nikki, so that will come later.
Next, I found these "Just For Fun" collars at 2 Hounds Design.  Alisha Navarro is the creative genius and hound fashionista behind 2 Hounds Design.  It was fun to meet her.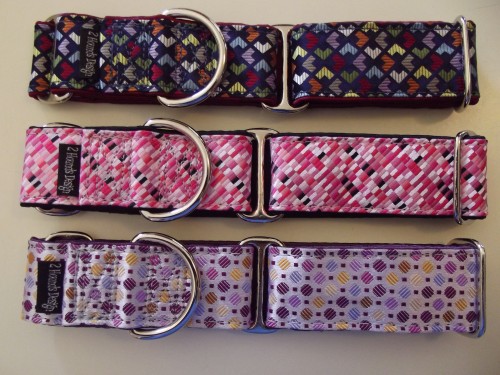 Tetras, Pink Pixel and Disco Dots
Then, we went to The Tree Parlor where my friend, Amy, put together this combination of "Winter" collars.  I loved how they went together but weren't "matching."
Finally, I picked up these "Everyday" collars at the G.E.M. Store.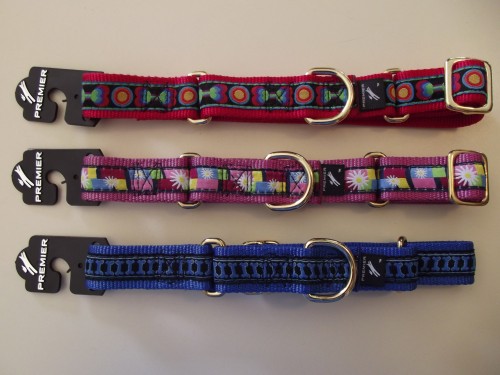 Bones & Dots, Daisy Block and Illusion Bone
And the fun isn't over.  I met several other collar designers that are sure to be featured in the future.  Let the collar-mania continue!