March 16
.
Every Saturday, I share my weekly Artist Date.
This week, I spent some time in the gardens at Copshaholm where I am a docent. The links lead to two other posts I did about Copshaholm.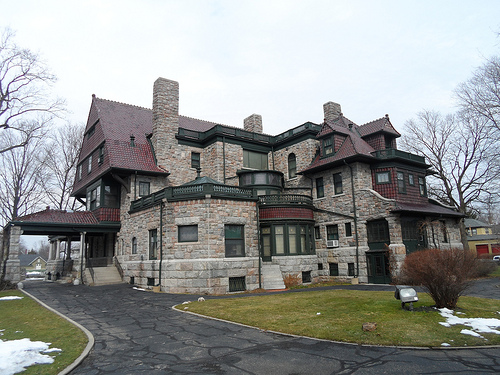 Copshaholm is the home built by J.D. Oliver for his family.  J.D. Oliver's father, James, developed processes to create a better plow and his the business eventually became the Oliver Chilled Plow Works.
The mansion was dubbed Copshaholm in honor of the birthplace of J.D. Oliver's father, James.  James was born near Newcastleton, Scotland.  In ancient times, Newcastleton was called "Copshawolm" which literally means "clump of trees on a hill overlooking a river."
The grounds consist of 2.5 acres of landscaped formal, informal and recreational areas. While changes were made to the grounds over the years, these were usually additions or stylistic changes that did not remove all traces of the previous design.
The 1890′s and early 20th century saw a tremendous growth in outdoor activities.  Houses flowed out into their grounds with pergolas and walkways leading out to open terraces, recreation areas and teahouses.
The gardens as they exist today, began around 1907 when J.D. acquired the property adjoining Copshaholm. The Olivers first hired Alice E. Neale to design the gardens. Neale laid out the pergola in 1908. This vine-covered walkway leads west from the porte-cochere to the sunken garden.
The garden is representative of the Edwardian period of garden building which occurred in the early years of the 20th century. Edwardian gardens were distinguished by a rigid formality in the overall design and the use of classical design elements.
The gardens have changed over the years, but the changes are fascinating and add to the sense of how the house and family evolved.
The gardens are bare this time of year, but still lovely, peaceful and quiet.
I'll spend other Artist Dates there this year, and show you how the gardens look during the different seasons.