March 10
.
I'm reading Creating A Life Worth Living by Carol Lloyd. I picked this book because I'm trying to figure out the place I want painting to play in my life.
This week…Chapter 9, "A Map to the Moon," provides a series of techniques…to draw a map to your newly defined goal.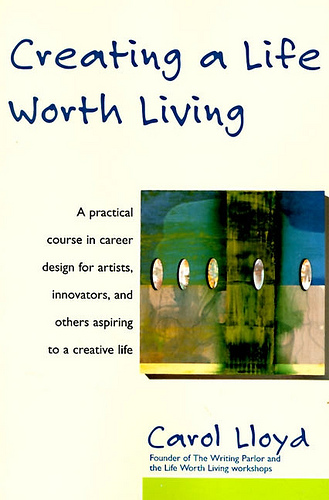 The purpose of this chapter is to help you "create a visual path from your goal back to the present moment." Here are the steps:
Step 1: Clustering
Clustering is a technique where you place your goal or idea in a circle in the middle of the page, then radiate out from the circle, jotting down anything that comes to mind. You can see a portion of my cluster diagram below.
Step 2: Making an Action Plan
Carol shows you four models of planning: scoring, storyboarding, listomania and blueprinting. After reading through the four models, I decided to try storyboarding.
Step 3: Playwriting with the Sage &Â Step 4: Brainstorming: Letting Loose the Air-Eating Child
Steps 3 & 4 are techniques you can use to illuminate your "black holes." Black holes are items you don't know how to approach…"parts of your endeavor that seem murky if not down-right confounding"…places where you know you need something, but you don't know how to get it.
I'm still working on my "storyboard" index cards. Then, the tricky part…For the final 3 weeks, I'll be in Part 4, "The Doing." I'm better at planning than doing, but the storyboard technique has me intrigued and hopeful.