March 24
.
I'm reading Creating A Life Worth Living by Carol Lloyd. I picked this book because I'm trying to figure out the place I want painting to play in my life.
This week…Chapter 11, "Building a Bridge You Can Jump On," guides you in building an emotional and practical support system through friendships and creative alliances.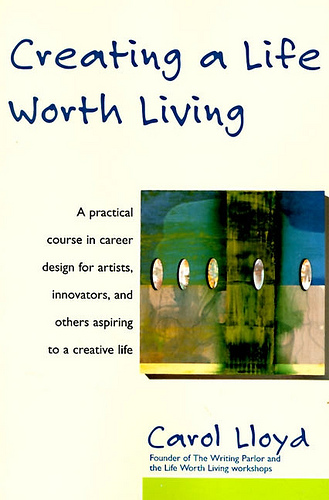 This chapter gives you ideas on how to set up a support system that keeps you in touch with both your dreams and the real world. Two of the ideas were of special interest to me…partnering and what the author calls, "Sweet Family of Ghosts."
Partnering
The author identifies "partnering" as the crucial support technique. Partnering is "a formalized friendship that you set up with one other person to keep you focused on the best, most important parts of your life. The primary activity in this relationship consists of meeting with a person once a week to plan out your goals for that week and sometimes for that decade." The author suggests meeting once a week for an hour and a half. She also gives you an agenda to follow. This is an exciting idea to me. Now, I just have to find a partner.
Sweet Family of Ghosts
Another support structure the author suggests comes under the heading, "Sweet Family of Ghosts." She suggests deeply learning about people whose work and lives you respect.
"To develop your family of ghosts, read biographies, peruse bookstores, visit museums, write them letters–and make friends with a few dead people. Know their lives and their loves; become intimate with their creative process, their beliefs about art. Love them for what they have given you and they, in turn, will begin to live within you."
This is intriguing to me.
This is support that I currently don't have. I can clearly see how beneficial this support would be in keeping me on track, inspired and helping someone else to experience the same.