January 13
.
I'm starting off the year reading Creating a Life Worth Living by Carol Lloyd. The cover of the book says that it is "A practical course in career design for artists, innovators, and others aspiring to a creative life. I decided on this book because over the course of last year, I discovered how much I love to paint, and I want to share my painting. Out of that desire have come some ideas, but not well formulated ones and not traditional ones in a business sense. When I saw this book, I thought it might help me come up with a plan.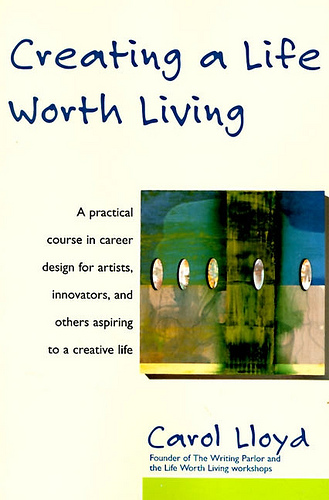 I was pretty happy early on when Carol states that the book's task is "to apply the artistic process to building a career" because "for creative people, living by an internal system is the only way. " This resonates with me because I don't find myself drawn to a traditional business path. Here is what Carol says she hopes her readers will take away from the book:
"…first, a clearer vision of what you really want and a commitment to that vision; second, a step-by-step plan for achieving that vision; and third, a daily process that develops strong, healthy work habits and keeps your vision in sharp focus."
Chapter 1, "Ecstatic Task," reminds me of The Artist's Way's Morning Pages and Artist Dates. It introduces the idea of a daily action. The daily action is "…fifteen minutes of a focused activity performed every day at the same time of day. Choose an activity that creates an empty space where your creativity can reassert itself. Let the action be solitary and process oriented. You are giving yourself fifteen minutes of emptiness within the blur of living."
I know this type of activity works for your creativity like exercise works for your body. My daily action is to write, doodle and make lists in a notebook.
So that's where I'm at this week…opening up some space and reorienting my life.