January 20
.
I'm starting 2013 by reading Creating A Life Worth Living by Carol Lloyd. I picked this book because I'm trying to figure out the place I want painting to play in my life.
This week…Chapter 2, "Stoking the Coals," has a series of conceptual, visual and verbal exercised to ignite the idea-generating part of your brain and train your imagination to rise from the mired realm of worry to the inspired world of play.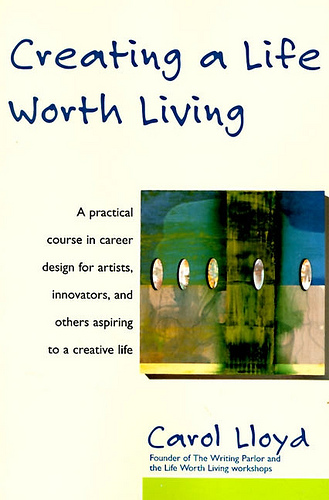 I had two favorite exercises from this chapter.
The first involved a series of questions that took me from a vague idea to a specific task. It began with the question, "What is the one essence that you seek to bring out in your life and in your work? Okay, I wrote down more than one:
Specialness, Uniqueness, Hope & Possibilities, Creativity, Peace, Friendship, Love, Gentleness & Kindness, Relationship (one-on-one & groups)
Ten more questions followed with the intention of transforming a vague longing into a concrete goal with a specific list of tasks. The final question was, "If you were to commit to this project tomorrow, what would be the first tiny step you need to take? I wrote down:
The project – Apply for an art fair.
The first tiny step – Research and compile a list of 10 art fairs I'd like to participate in.
I really appreciated this process of questions. It did take a little time (30-40 minutes) but I think knowing your intention and the essence you want to bring is essential to coming up with meaningful goals and projects.
The second exercise asked me to list the tasks I enjoy doing most, what environment I'd like to work in and what fields I am interested in. I wrote down:
My ideal tasks include…writing, painting, talking to people and teaching.
My ideal environment is…My private studio, short-term situations, environments that are fun, creative, unique, appreciative and cooperative.
My ideal field is…Selling my art, writing and teaching.
These exercises were pretty easy for me to work through because I've been thinking about the role I want painting to play in my life for awhile. It's good for me to write them down though, because I can get so many things rolling around in my mind, that working through these exercises and getting them on paper can only strengthen my focus.