January 27
.
I'm reading Creating A Life Worth Living by Carol Lloyd. I picked this book because I'm trying to figure out the place I want painting to play in my life.
This week…Chapter 3, "Excavating the Future," leads you through an exploration of yourself by examining memories that involve beauty, strength, and inspiration.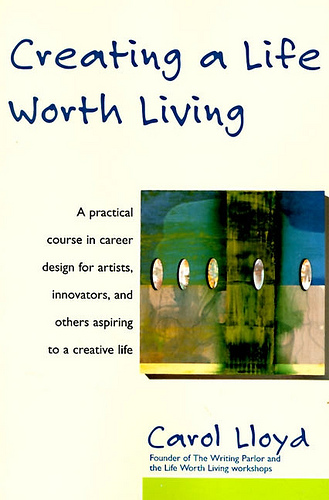 I must say that I didn't spend a lot of time on the exercises, not because I didn't think they were important, but rather because I've done exercises like this before, so I feel I know myself in this regard. I will say that reviewing the things you loved to do as a child, teen and young adult can be very revealing in regards to your talents and passions.
Here's what I know about myself…
I am most productive in a structured schedule. I need a day job.
I create best in private, and I need a lot of time. I process and work slowly.
The career I'm looking for now is different than a career I might have been looking for when I was in my 20's. I'm in a position to do more things on my terms (thank you, husband and day job).
I'm comfortable with myself so, in some regards, it's easier for me to overcome fear and disregard nay-sayers.
I have to continually be learning, growing and changing.