February 10
.
I'm reading Creating A Life Worth Living by Carol Lloyd. I picked this book because I'm trying to figure out the place I want painting to play in my life.
This week…Chapter 5, "Neglected Needs: Time, Money, and Desire," will help you rethink your relationship to time, money, and desire.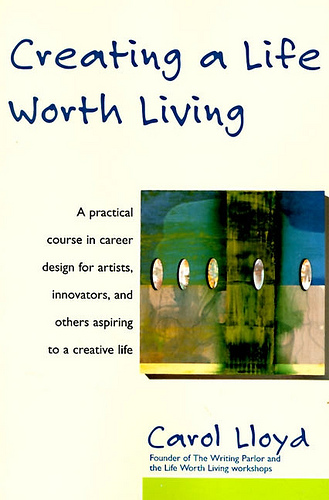 I feel I'm in a stable place with regards to time, money and desire. For now, I want to paint as a part-time pursuit. I want to do this because…
1. Time – I've made creative pursuits a priority in my life, so I set aside time to work on my projects. I'm new at this, so I know I need time to learn and grow. Painting part-time and working a day job part-time gives me a nice balance.
2. Money – I like my day job and want to keep it. I'm very grateful that both my husband and I are employed, so we don't need my paintings to pay the bills. I work best creatively when I'm motivated but not under intense pressure, so for now my situation supports that.
3. Desire – I want painting to become more and more an important part of my life, but I want to take my time and grow into it. I know if I put unnecessary and complicated demands on myself, it will make painting unpleasant and I certainly don't want to do that.
Carol, the author, asks this very intriguing (and important) question: "What does creativity and success actually mean for you?" I think the trickiest part of that question is the word "success." In my opinion, that is the word we have the hardest time defining for ourselves because most of us are susceptible (consciously and unconsciously) to letting other people and society define it for us. Carol offers a lot of interesting questions that get you thinking and redefining what these things mean to you.
I particularly enjoyed doing two of the exercises. The first was, "Narrate your perfect day from the moment you wake up to the moment you close your eyes. This is a working day–not a holiday…" The second was, "Based on your new understanding of your daily needs, think about what kinds of help you might like from other people."
My perfect work day would be painting, painting, painting, but when I thought about it from a business point-of-view, I found myself thinking about interacting with customers and people that enjoy my work. That leads me to think about doing art fairs and gallery shows where I can meet people and talk with them.
The second exercise made me realize that I do need to ask for and/or hire help for tasks that I don't like doing, because without planning for that, I'll procrastinate myself into inaction. It's good to know your weaknesses.
Now, for something a little different…
Last year, I participated in the South Asian Challenge hosted by S. Krishna's Books. I committed to reading four books, but only read two of them. So, I'm joining in again and will finish the two books I didn't get read last year.
There are two ways for a book to qualify for the South Asian Challenge:
1.  A book must be by a South Asian author.  For these purposes, South Asia includes the following countries: India, Pakistan, Sri Lanka, Bangladesh, Bhutan, Nepal, and the Maldives.  There are no limitations on what the book can be about.
2.  A book must be about South Asia or South Asians.  In this case, it can be set in a South Asian country or be about South Asians living abroad.  It can also be a biography or memoir of a South Asian, or of a non-South Asian traveling or working in South Asia.  In this case, the author does not need to be South Asian, as long as the subject matter focuses on the region, peoples, or cultures in some way.
Here are the two books I'm reading for the challenge: