February 17
.
I'm reading Creating A Life Worth Living by Carol Lloyd. I picked this book because I'm trying to figure out the place I want painting to play in my life.
This week…Chapter 6, "The Drudge We Do for Dollars," explores the paradigm of the day job. It describes the various kinds of jobs and how they can support or undermine your long-term creative goals.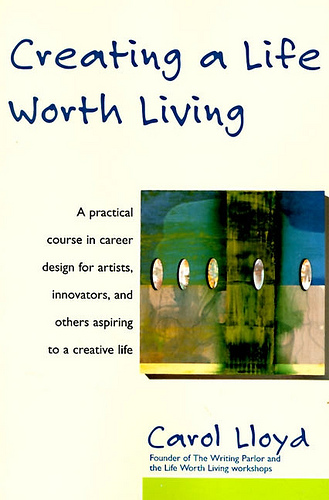 As I've mentioned before, I don't feel a horrible tension in my life with regards to my creative work and the work I do that pays a wage. If you do, this chapter has a lot of good information with questions and suggestions to help you align your life and work to better support your future goals.
This is interesting…The four basic types of day jobs most artists must consider when planning their lives.
In the Big Tent – These jobs may not require the actual skills of your art, but they do put you in contact with the people, organizations, and publications that produce your art.
No Contest – When it comes to decisions between No Contest day jobs and your art, there's no hesitation, you know where your priorities lie. No Contest jobs never tempt you away from your dreams; you never worry about them when you are not punched in. Often they require little formal education and no long-term commitment.
Counter Balance – The Counter Balance job demands that the artist do something very different from his or her art form.
Wellspring – The Wellspring job directly feeds the source of your craft or art.
If you feel dissatisfied with the work you are doing on your way to the work you want to be doing, this chapter is very helpful.
This book is divided into four parts.
Part 1: The Dive (Chapters 1 & 2) – Engages you in the process of strengthening your relationship to your dreams with rigorous daily habits.
Part 2: The Dig (Chapters 3, 4, 5 & 6) – Engages you in a process of search and research–churning up all your ancient desires, present needs, and timeless inclinations.
So, this week I finished up Parts 1 & 2. Now on to Parts 3 & 4.
Part 3: The Design (Chapters 7, 8 & 9) – Guides you through an in-depth planning process, thereby developing your "eagle vision." These chapters will lead you deep into your own ideas and dreams, compelling you to give them life through concrete detail.
Part 4: The Doing (Chapters 10, 11 & 12) – Lunges you back into the power of "squirrel work." Through specific exercise and techniques, you will work toward making today a vehicle that can transport you into your chosen future.
I'm ready to go!