February 24
.
I'm reading Creating A Life Worth Living by Carol Lloyd. I picked this book because I'm trying to figure out the place I want painting to play in my life.
This week…Chapter 7, "The Long and Winding Roads," addresses the problem of indecision and competing interests.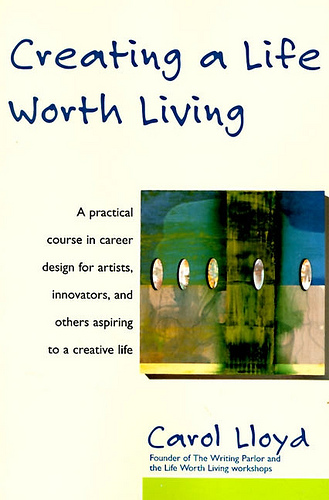 This chapter was very interesting to me and I hope, ultimately, very helpful because it made me reflect on inclinations I've had all my life…(1) I'm interested in almost everything, (2) I'm easily distracted, and (3) I get bored if I have to do that same thing for too long. When I initially typed the preceding sentence, I typed "problems" instead of "inclinations." Although these tendencies can be a problem in one sense, that is who I am, and I'm not dissatisfied…BUT, in trying to put some form to my creative life, being willy-nilly-all-over-the-place isn't serving me well.
The main exercise in this chapter, what the author considers "the most essential exercise in the entire book," is to think through three possible futures for yourself. She gives you a variety of questions to help you live out the three paths in your imagination.
For my three paths, I chose painter, teacher and writer.
When I wrote out my life based on these three different paths, the following became much clearer…
1. Imagining my life as a painter had the most joy and passion. I could imagine that life well into the future and could come up with all sorts of interesting things I'd like to do in that life.
2. Imagining my life as a teacher and writer didn't hold the same excitement. The only way I could get excited about either of these paths was to imagine them in connection with painting or with being an artist and creative person.
3. Although these things quickly became clear when I did the exercise, I realized how having these different "paths" living in my head has kept me from focusing on the path I truly want to pursue.