March 3
.
I'm reading Creating A Life Worth Living by Carol Lloyd. I picked this book because I'm trying to figure out the place I want painting to play in my life.
This week…Chapter 8, "Goals," redefines goals and then guides you through the process of conceiving a single, long-term goal, reflecting your most important creative aspiration.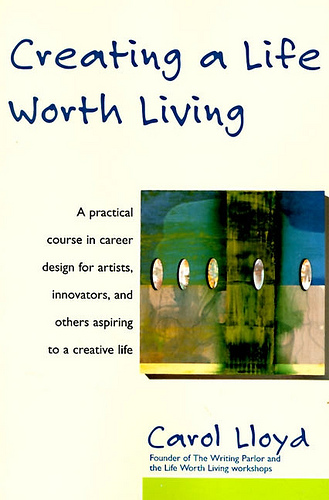 Whenever I think of setting goals, I tend to feel defeated right from the start. I love the author's thoughts on goals…
"Old-fashioned, boring goals stink. But well-crafted, creative goals–that's a different thing altogether. They are tantalizing, provocative, and gorgeous. They are little aesthetic worlds perfectly shaped from your own desire. They are works of art designed and created for a single person: you. You create them for your own benefit, your own excitement and joy. And just like a successful work of art, a creative goal should provoke you to new insights and new experiences."
Here are the parameters of a good creative goal:
1. It lies within the arc of your faith.
2. It is rich in visual and emotional imagery.
3. It is in the area that excites you the most.
4. It's objective.
5. It is an event or an occurrence that happens in time.
The author then gives you a framework to write out your goal:
Goal:
Timeline:
Means of Support:
Desire (What's at the heart of this goal?):
Images:
Here is my goal:
Goal:Â I sell my art at art fairs…anywhere I choose…five or six a year, and I offer instruction and inspiration to other artists through workshops, online courses and in publications.
Timeline: Two years.
Means of Support: My husband's and my current jobs.
Desire:Â I want to sell my one-of-a-kind paintings because it is exciting for me to create them and then find a customer that feels a special attraction to a particular piece. I want my artwork to be a source of income into retirement and selling my paintings will give me a reason to continue to paint and learn. I want to sell my paintings at art fairs because I want to meet other artists and make new friends, and I love the idea of meeting my customers and selling directly to them, face-to-face. I want to travel and see different parts of the country. I want to share my art and the spirit behind it with others. I want to inspire people to create and embrace their own unique abilities and vision. I want to help people see the sacred aspects of creativity. I want to teach because I always learn more than I teach and it's fun to watch people learn new things. I want to be open to new opportunities and possibilities. I want to be generous with my time, talents and resources.
Images:Â I see myself preparing for and then traveling to a new location and show. I have everything nicely organized and ready, so it's fun. I enjoy the excitement of the event and getting to meet new people (other artists and customers). Before and after the show, I enjoy seeing a few local sites. Between shows, I enjoy painting, writing and working on creative projects. I receive exciting new proposals, and I get to pick and choose the ones that I can best contribute to. There's always something new to look forward to.
Now, I want to get this goal written out and pinned up in my studio. I want to keep it in front of me.
I'll admit, it feels a little freaky to write this out and put it out into the world, but that's only because it makes my inner critic uncomfortable. Take that, inner critic!