June 13
.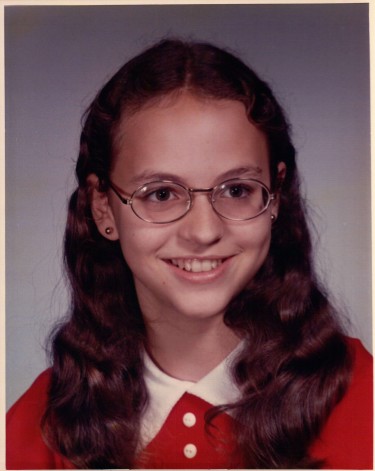 Ordinary Lori, 6th Grade
I'm going through the book, Creative Is a Verb by Patti Digh.  Patti teaches six creative commitments.  The first commitment is "Be Ordinary: Put Down Your Clever."  The sections within the chapter are:  (1) Come as you are, (2) Leave your base camp, (3) Monogram your morning pancakes, 4) Learn how to learn, (5) Wear a paper dress, and (6) Stand on your rock.  Patti talks about how our ordinary is what makes us unique.  She encourages us to find or rediscover what that ordinary is, to infuse our lives with our ordinary and to pass our special and unique brand of ordinary on to others.
I find this creative commitment is becoming easier for me as I get older.  It's a truth that our culture doesn't really care for "old."  That can be depressing or completely freeing.  This week, I thought back to when I really felt like plain, ordinary, fantastic me.  It was in 6th grade.  I was at the height of my game as "Ordinary Lori."  I didn't feel the need to conform, to look any certain way, to act any certain way.  I was me.  I was good at it, and it felt wonderful.  In 7th grade, I entered Junior High and everything changed.  Hormones.  What did I want to "be" when I grew up?  Did the popular kids want to be my friends?  Were my parents proud of me?  Was my church proud of me?  And on and on and on.  I stayed true to myself in some regards and in others, I sold out.  Now, blessed with the cloak of invisibilty that you take on as you age, I find myself once again free to be just Ordinary Lori.  The only problem, some of the stories I sold myself on have left pretty deep impressions.  I'm working on that.
I recently went to a friend's house that I hadn't seen in a while.  My friend was introducing me to some of her other friends, and she was telling them about my blog and how much she enjoyed it.  She said, "She's an artist."  It surprised me when she said it, and I almost corrected her.  But then, I didn't because that's what I am.  I haven't figured out exactly what that means, but that is how I think of myself, and that's how I'm living my life.  Details are figuring themselves out.