February 20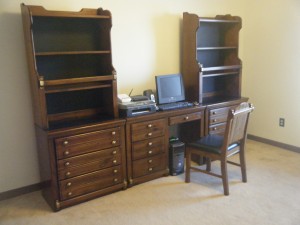 Anti-climactic, I know.
What I did:
Painted the room.  The room originally had a navy blue ceiling and gray-blue walls.  Everything needed a second coat, so I used twice the paint I normally would.  I painted everything white.
Re-purposed a piece of furniture that was in my daughter's room.  I haven't decided whether I'll keep the piece together or break it up into separate parts.
Here are my original goals and where I'm at now:
Goal 1 – A pretty, fun and inspiring place to create and work
I have the space, and the new paint has made it a nicer place to work.  I still have a lot to do to make it pretty, fun and inspiring.
Goal 2 – Storage for my supplies
I have a start on that.  I still need to go through the whole house and gather everything together.  I know that I have things that belong in this space in every room of my house except for the bathrooms and kitchen.
Goal 3 – Work spaces
This is a challenge I haven't figured out yet, and I still need a place for my sewing machine.
Goal 4 – An inspiration board and files
I have my inspiration files together but I still need an inspiration board.
New Goal – Move the houndies' crates into the room.
Oi…this is really throwing a wrench into the works!
So…let's keep going.  What are some of your ideas for my creative space.  I'd love to hear what works for you.  Check back and see the "Creative Space – After (Part 2)" on March 20.