March 20
The Dream
I would post a picture of my future creative space.  I would set out the goals.  I would accomplish the goals (perfectly and in their entirety).  I would post a picture of the miraculously transformed room (calls from HGTV would soon follow).  My readers would be awed by my incredible powers and would be inspired to create their own creative spaces (because it was so easy, right?).  I must also mention that apparently in the dream, I was someone other than myself because NO WAY would I be able to accomplish this unless I was some other person (I guess I thought writing a blog had miraculous, transformative powers).
I painted the room (white…how original) and planned to re-purpose a piece of furniture, but was completely stalled after that.  I posted an apologetic post promising the miraculous transformation NEXT month.
The Reality (Part 2)
Writing a blog doesn't transform you into a superhuman (drats!).  So, in the spirit of making lemonade from lemons, I've decided to make this a year-long journey (that's what this year's all about anyway).  Here's where I stand this month:
Goal 1 – A pretty, fun and inspiring place to create work
It's getting there.  I love color, and I always paint my walls with a color.  I painted this room white because I wanted to have the freedom to play with color in another way.  Right now, I'm kind of stumped on how to do that.  The plan is to used the colors of my inspiration files.
Something I love…see that picture of the sweet, little girl.  That's me!  This picture hung over my family's piano the entire time I was growing up.  When my mother gave it to me I was grateful, but I put it in the closet because I couldn't imagine where I would hang a large picture of myself as a little girl.  As I've been going through The Artist's Way, I have written about myself as a little girl…before the world convinced me of who it thinks I am.  I've kind of fallen in love with this little girl who was so adventurous, creative and open.  I think she's very inspiring.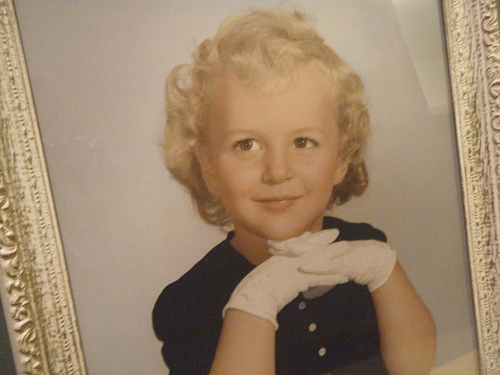 Goal 2 – Storage for my supplies
Not much progress has been made here.  I was so confused about how to arrange the furniture, that I didn't do much work in this area.  I've started to move things into the room but there's a lot more to come.  Stay tuned.
Goal 3 – Work spaces
I set up a folding table to create an L-shape with the desk.  I'm going to work with this for a bit and if I like it, my husband said he would make a table for me that looks nice in the room (he's a sweetie!).
Goal 4 – An inspiration board and files
I hung up a cork board and a magnetic board…nothing on them yet.
Goal 5 – Move the houndies' crates into the room
They're moved in.  Now what!  They look horrible.
I love to hear your ideas for my creative space or things that work for you in your creative space.  Check back and see the next installment, "Creative Space – After (Part 3)" on April 17.