May 15
Bookcases – After
Here's what I'm work on this month in my creative space.  If you're new to What Remains Now or just want a review, here's what's happened so far…January, February, March and April.
One of my goals is to get all the things I work with into this space.  That hasn't happened so far, and I haven't been working on projects as I would like to be doing.  I've been slowly gathering things up, but mainly I've been using my creative space more as a dumping ground.  Here's what that starts to looks like if you don't have a plan.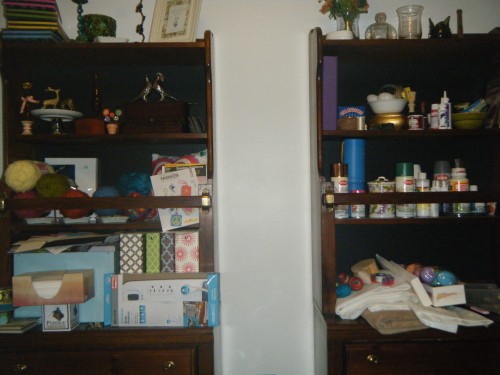 Bookcases – Before
It's evident to me that I need to get to work on storage.  I'm currently re-doing the closet, so that will play an important role, but I wanted to get this mess cleaned up before it became a big problem.  One of the most important steps in organizing and creating a system that works is setting limits and having a specific place for everything.  This is critical for me because I have "hoarder" tendencies.  Setting limits makes it easier for me to see when I'm getting out of control.
The following list is not complete; it's just a place for me to start thinking.  Here's what I need space for:
1.  Items I've purchased to re-purpose (top shelves of bookcases)
2.  Supplies like buttons, ribbon, wire, etc. (bookcase shelves and drawers)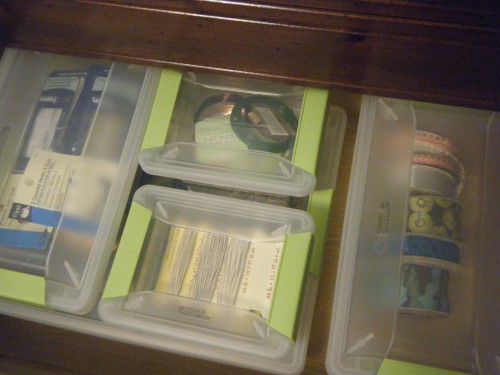 I found these great containers at Target.  They fit perfectly in the drawers.
3.  Fabric & yarn (closet)
4.  Items listed on Etsy (closet)
5.  Projects I'm working on (bookcase shelves)
6.  Patterns and inspiration files (bookcase shelves and closet)
7.  Paint, glue, brushes, etc. (bookcase shelves)
The only thing I did this month for the closet was select and purchase the paint.  I'm painting it "Season's Promise" a fresh yellow-y green.
I'm going to quit goofing around with this and get all my things gathered up so I know what I have.  Let's see what I have to show you in June!