June 26
.
This year, I'm turning a room in our home into my "creative space."  Here's a review of the posts from previous months – January, February, March, April, May.  This month, I planned to paint and organize my closet.  One of those tasks is done…I painted yesterday.  It is a bright, happy shade of green called "Season's Promise."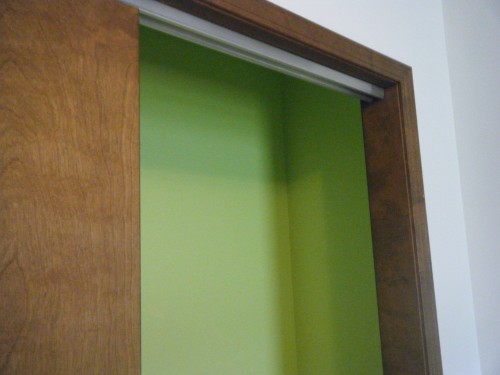 Finishing the closet will give me some nice storage space, but I'm going to step back a bit and do a little planning.  One of my favorite organizing books is Organizing from the Inside Out by Julie Morgenstern.
I like Organizing from the Inside Out because of the process it takes you through.  First, you "Analyze" the problem, (1) What's working? (2) What's not working? (3) What items are most essential to you? (4) Why do you want to get organized? and (5) What's causing the problems.  From there you move on to "Strategize" where you (1) Define your zones, (2) Map out the space, and (3) Rearrange furniture.  The final step is to "Attack" and that's where the action is.  During the "Attack" phase you (1) Sort, (2) Purge, (3) Assign a home, (4) Containerize, and (5) Equalize.  This process has been helpful to me in other areas of my home because without the "thinking and planning" part up front, I tend to lose focus, and then I start to pile.  So before I install any shelves in the closet, I'm going to go through these steps.  I'll take plenty of pictures.
My current fantasy for this space is ScrapBox furniture.  These are the two pieces I'm in love with.  I'm going to have to save lots of pennies if I want these.
EZ View Desk
The Sewing Box