November 20
.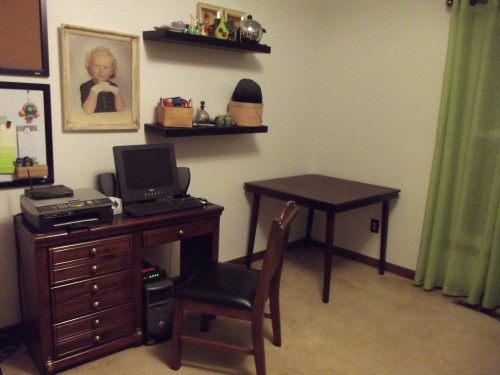 Just a quick "check-in" on my creative space.  You'll notice a new table in the corner, and now the shelves need to move.  I think I'll but them on the other side of the window, over the table. 
In October, I worked hard on organizing my room to make sure I had a place for all my supplies  Having a specific place for things made it possible for me to keep the room relatively clutter-free…except for the desk area.  In an earlier post, I mentioned the book Sink Reflections by Marla Cilley has been very helpful to me as a recovering "hoarder."  One of the things she describes in the book is a "Hot Spot."  A Hot Spot is a place where as soon as you lay one thing on it, things begin to multiply and before you know it, the surface is covered.  Around my desk looks like a blazing Hot Spot.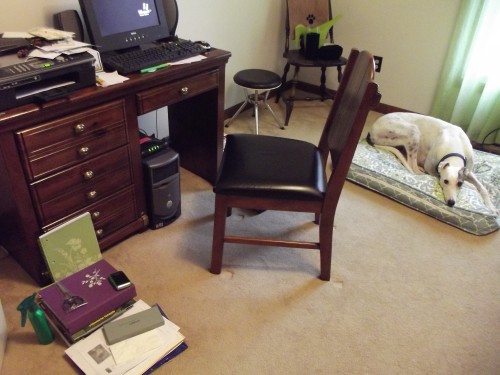 Here's what I did:
1.  Bought a few pocket portfolios to keep projects I'm working on, my blog schedule and ideas, and notes I make and want to follow-up on.
2.  Cleaned out the desk drawers so I'd have room for my portfolios, notebook and paper.  I didn't do this last month when I did the big organzing project.
3.  Got a basket for tossing things that don't get put in their proper spot right away.  Then, I can see when I need to stop and do a little filing and organizing.
Here's what I need to do:
1.  Go through all my notebooks and consolidate them.  I have more idea notebooks than is helpful.
2.  Play around with the location of my desk.  I don't like to face the wall.  I'd like to see if I could face my desk toward the door.  That may have to wait until I get a new computer that doesn't have 50 wires and cords.
3.  Get the printer off my desk.  Whenever I work on something, I have to put it on the floor because I don't have any desk surface.
4.  Figure out what I want to put in place of the shelves I'm planning to move.  I'm thinking of a thread holder, a long-term planning calendar and some pockets for file folders, magazines, etc.
Art Every Day Month – Day 19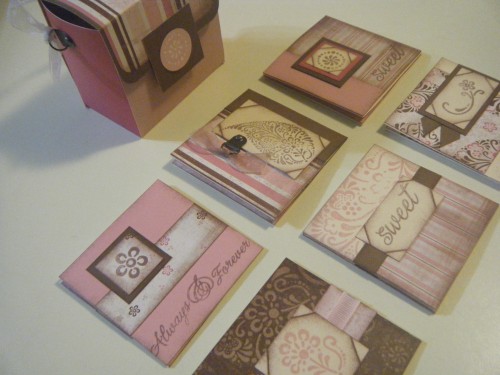 Box of Tiny Cards
Made by me under the careful supervision of my niece prior to Art Every Day Month