August 14
.
Unfortunately, a broken fuel pump on my vehicle caused my plans to change this weekend.  The day didn't go to waste though.  I FINALLY installed my closet system…well, sort of.  I'm notorious for thinking through an organizational project and then purchasing the wrong things.  For instance, see those nice long 70″ shelf bracket supports…I initially purchase 48″ shelf bracket supports!  I've learned to buy the bare minimum and add from there.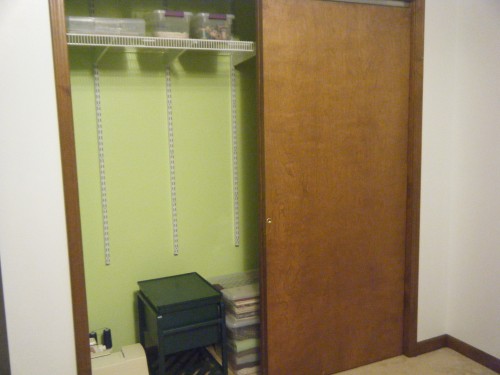 I'm thinking I'll add three more shelves.  I'll only add one at a time because as stated above, I'm horrible with this particular step in the planning process.  I also add a few more totes.
If you recall my original post on this project.  The closet isn't the only area that needs attention.  I do believe it is an important part though.  Not only will it be my primary storage area, it will help me set limits on what I can have and keep and that's very important for a little hoarder like me.  A big improvement over what I started with, wouldn't you say!