October 24
.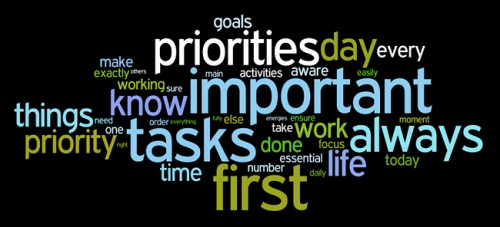 My final book study in 2011 is Creative Time and Space by Ricë Freeman-Zachary.  2011 has been an incredible year for me.  I've taken the time to explore what I want my life to be, now that my daughter is grown and I'm on my own again.  I've had to re-examine who I am and what I want to accomplish in this new phase of my life.  I have some definite ideas, but now what?  Just squeeze that into the life I already have?  That's where the tension is for me right now.
This week's reading was, "Making Time.  Let's Face It:  You Can't Do Everything."  Prioritizing and re-ordering my life is on the menu for 2012.  My problem is not identifying tasks that don't support and enhance the things that I value and then getting rid of them.  Everything I do supports and enhances the things I value.  It's identifying what's most important and making sure those things get time, that's my challenge.  The double-edged sword of modern living is that we have so much available to us that we can find ourselves "majoring in the minors."
This week, I've been writing down what's important to me.  Here are three things that I've identified as being the most important things in my life, and where I stand in relation to those things:
1.  My relationship with God
I love to read and study the Bible and all things "spiritual."  I also belong to a local church (Granger Community Church) and particpate in it's work; but in my opinion, my relationship with God sucks.  Why?  Because I'm missing the most important part of that relationship…the spending time part.  I need to spend time with God in quiet, meditating, waiting, listening.  I don't do this and the most important relationship in my life suffers for it.
2.  My relationships with people.
I think I've done better with this.  My husband has helped me a lot in this area…he's Mr. Hospitality.  I want to keep doing better with this and keep it in balance.
3.  Time for creating.
I want more of this!  2011 has been a creatively explosive year for me, and I love it!  My challenge in 2012 is to focus myself and make sure I identify and make time for what matters most to me.
This is the short list; three things that I want to make sure get the time and attention they deserve.  These are the things I'm thinking of as I prepare to end 2011 and begin 2012.