November 7
.
 
I started writing What Remains Now in January 2011.  One of my dreams for writing a blog was to get back in touch with my creative spirit.  Every Monday, I've been exploring that quest.  Currently, I'm working my way through Creative Time and Space by Ricë Freeman-Zachary.  This week's reading was "Stuck in Time: When You Need a Tow Truck to Get Out of a Rut."  Ricë talks with the featured artists in the book about what happens when there are no ideas, no spark.  Some of the artists didn't know what this felt like.  Their concerns dealt more with an overabundance of ideas.  But some of the artists did struggle with this problem and offered up suggestions on how to ride out the dry spells.
One of my favorite quotes from this chapter was from Theo Ellsworth,  "As I see it, we as artists have an ongoing working relationship with our own imaginations, and with any long-term–life-long–relationship, there's going to be a waxing and waning.  The big thing is to just keep showing up.  When you're making a long journey on foot, you're going to hit some rugged terrain, some beautiful vistas and some desolate, muddy vacant lots.  All of this becomes valuable when you see it all as part of the creative process.  And your work can only become richer for having stuck with it.  I feel like our own art is always trying to tell us something, and doing the work is the act of listening."
I consider myself a "baby" artist.  I'm still trying to figure out who I am and what I'm doing.  I do know one thing about myself; I need structure.  Currently, I'm participating in a challenge called Art Every Day Month.  This has been surprisingly good for me.  It has "forced" me to produce something every day.  Good, bad or indifferent, I have to make something every single day.  I can see very clearly that if I am to be successful, I have to work within a structure; but I want to keep in mind that the most important thing is that I keep showing up.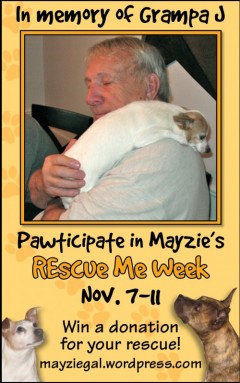 This week, in addition to the Art Every Day Month challenge, I'm participating in Mayzie's Rescue Me Week challenge.  Mayzie is the author of the most excellent, Mayzie's Dog Blog, and she is going to have a drawing on or about November 16 and award 5 rescue groups $100 each!  Mayzie is doing this in honor of her Grampa J who was a great lover of animals.  I'm playing for Allies for Greyhounds of West Michigan, the group who rescued Freedom, Casper and Nikki.  Today, I'm featuring Vandyke.
Vandyke is currently in a foster home, and here's what his foster mom has to say about him:
"Vandyke is a sweet boy that's waiting for a family. He loves to play with his toys. He likes to go for rides and rides great in the car. He walk nicely on leash and crates just fine when I'm working. He also has the world's biggest smile when he's happy. He smiles at me whenever I let him out of his crate in the morning or when I come home from work. That accompanied by his vigorously wagging tail tells you he's so excited to see you! He'd do well with larger dogs and wouldn't mind not having a yard-He'll potty on lead very nicely. He's a sweet boy that despite his age will make a wonderful family a wonderful pet. He'll be waiting patiently for a lucky family to take him home!"
To find out more about Vandyke and other Greyhounds waiting for their forever homes, go the the Allies for Greyhounds of West Michigan website, click on "Adoptable" on the left-hand side and scroll down the list.  If a dog is in a foster home, click on their picture and you'll see a link that says "Foster Profile."  The Foster Profile will give you even more information about that particular dog.  Found one you want to join your family?  Click on the "Apply" link on the left-hand side and fill out an application.  I highly recommend adding a Greyhound to your life.
 Art Every Day Month – Day 7
 
Purple Yarn Vase