November 21
.
2011 has been a year of reawakening and refocusing for me.  One of the ways I'm moving that process along is to learn about the creative process by reading and working through books on creativity.  Currently, I'm reading the book, Creative Space and Time by Ricë Freeman-Zachary.  This week, I read the chapter "Soul Space: Where You Receive Permission to Play."  Ricë talked to the featured artists about how they nurture the "internal" space of their creative lives and fill it with ideas and the excitement of new endeavors.  The overwhelming answer…play.
Here are a couple ideas that I believe would help me out:
1.  Carry a camera with you everywhere and snap pictures of things that inspire you.  I think this would be nice for several reasons, the main one being that it would keep me looking.  That supports the idea of never leaving a creative state-of-mind, and the more I look, the more I'll find.  I also think it would also sharpen my mind and my "eye."
2.  Carry a journal or sketchbook everywhere to capture ideas and inspiration.  This is not only a great idea from a practical standpoint, but as Ricë states, "No matter where you are, you have that concrete connection with your interior space, with your interior creative life."
I'm convinced of the critical nature of keeping play at the forefront of a creative life.  I found a comment by Judy Wise very interesting.  She said, "Play is what it's all about.  I remember precisely the moment it all made sense to me.  The moment I looked at two related works and saw that one was relaxed and impromptu, and the other was perfect but strained looking.  One artist was playing, and I love that piece.  The other artist was working, and while the result was 'correct,' it brought me no joy."  Play is not only fun, it's essential.
Art Every Day Month – Day 21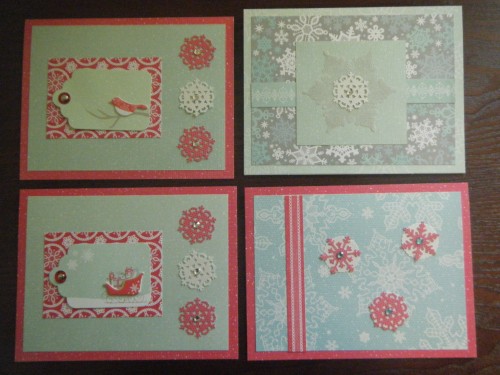 Christmas Cards