November 28
.
Creative Time and Space by Ricë Freeman-Zachary is the book I'm currently working my way through.  This week, I'm writing about the chapter, "Mental Space: What Goes on Up There in Your Head."  In the book, this chapter comes before the chapter I wrote about last week.  I think the fact that I have them in reverse tells you a little about my "mental space."  
The first half of Creative Time and Space deals with how we view and manage our time.  The second half deals with space, both inside and outside.  This chapter challenges us to look inside ourselves and do an assessment on how much space we allow for creativity inside our heads and hearts.  If you don't allow space for creativity inside, you'll never make time for creativity outside.
This chapter links well with Chapter 1, "Exploring Time: What Exactly Does 'Time' Mean to You?"   That chapter encouraged us to infuse everything we do with creativity and see what great ideas can form and grow if we live creatively…always looking, open to our creative spirit.
The idea of living my creativity and making the space for it inside my head is a relatively new practice for me.  For myself, I find it helpful to add a bit of structure to that formula.  For instance, I follow a schedule of different daily topics for my blog.  That "schedule" offers me a lot of freedom, but also helps me look for specific ideas that fit within that loose structure.  I've also been participating in the Art Every Day Month challenge and that has helped me see that "structure" helps me in creating my art too.  Each week, I've focused on one type of project…fabric flowers, yarn vases, canvases, paper and this week, Christmas trees.  Not every artist needs this specific of a focus, but I find that if I don't have it I'm willy-nilly all over the board, and I don't get anything accomplished.  For me, this structured openess seems to work best, and that's the practice I plan to follow in the year ahead.
Art Every Day Month – Day 28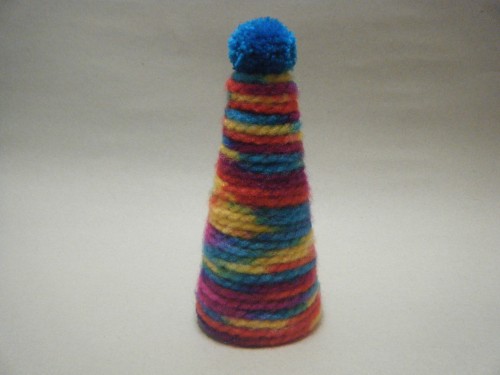 Yarn Christmas Tree