October 16
.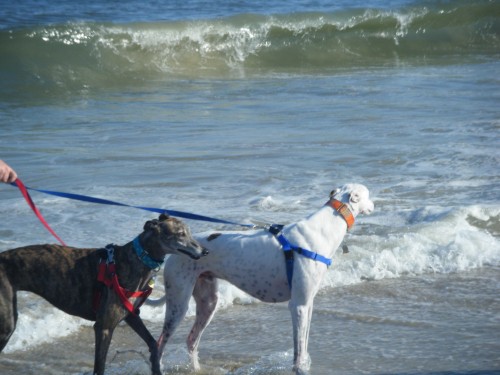 Freedom & Casper getting their feet wet
Vacation is rough on a body.  I had hoped to tell everyone about our lovely vacation on Wednesday, but "catching up" had me too far behind to get it done.  I'm back in the "at home" groove, so let me tell you all about our vacation…Greyhounds Reach the Beach 2011, Dewey Beach, Delaware.
Question:  How many Greyhounds fit in a 15-passenger van?  Answer:  5
Getting There
When we decided to take a vacation with our friends and fellow Greyhound owners, Tyler and Amy, one of the first questions we asked was, "How do we get the four of us, our four Greyhounds (Nikki wasn't in the picture yet), our luggage, the dogs' stuff (which is way more than our stuff), plus have room for our purchases, to Dewey Beach and back?"  The answer:  a 15-passenger van.  We removed all the seats except the back one, put the hounds in the middle, and it all worked out beautifully.  Everyone settled in quickly and slept for most of the 12-hour trip.  Casper was really the only problem.  He tends to like to take extra room, and he's fond of being close to or having a paw or his head on one of the girls.  The girls are not fond of this.  I was surprised by how well everyone got along.  These hounds must have good parents.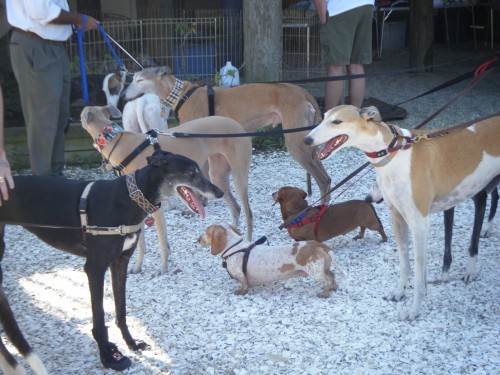 Long-legged and short-legged Greyhounds
Shopping
When we arrived, we headed out for some lunch and a little shopping.  The vendors set-up all over Dewey Beach…in carports, condos and motel rooms.  All manner of Greyhound merchandise was available.  We also visited the Rehobeth Fire Station where even more vendors were set-up.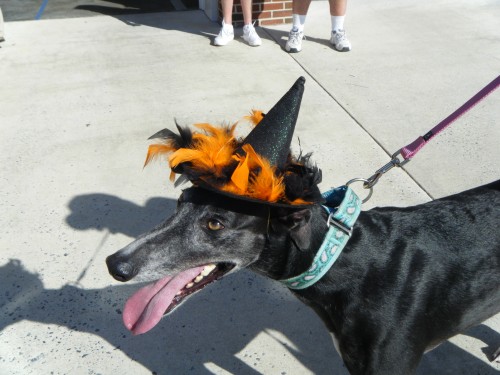 All ready for Halloween
Collars and style are an important aspect of the Greyhound experience.  I've dipped my toe into the collar water.  You may remember Freedom and Casper's dress collars and their patriotic collars.  After Dewey Beach, I must report that my toe isn't the only thing wet.  Twelve collars later (now remember, I have 3 houndies), and you could say that I've jumped in the collar ocean.  I'll devote a future post to my collar purchases.
Lori's QVC journey continues
We also went to a QVC Outlet!  No one who knows me is going to believe this next statement; but I didn't buy anything at the QVC Outlet.  Be assured, I'm already making plans for next year.  Either more saving or less collars.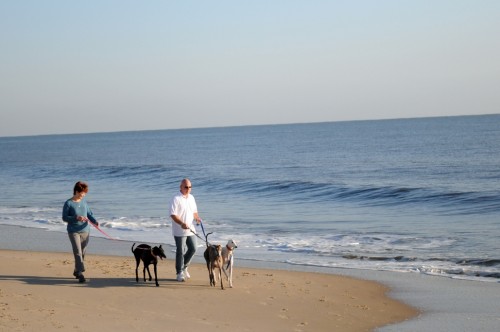 Beautiful Dewey Beach
The Beach
Dewey Beach is incredibly beautiful.  The thing I noticed first…no fish smell.  Landlocked Midwesterns don't usually get to experience water without a fish smell.  The sand was white and fine and clean.  I wish we could have had the whole beach to ourselves to let the pups off lead and watched them run like the wind.  They wish that could have happened too, but alas, you don't want to do that with a sighthound if you want to take the sighthound back home with you.  We did enjoy several lovely walks, got to see dolphins frolicking in the distance, and we all got our feet wet.  We also had our pictures taken on the beach by Nathaniel of Balance Photography.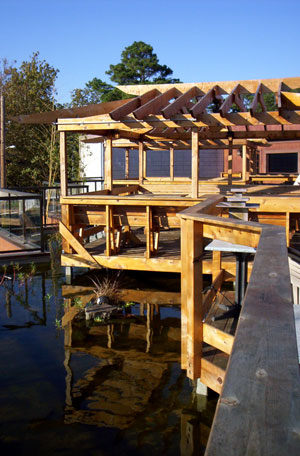 The Cultured Pearl – My favorite restaurant
Food
Everyone was crazy about the delicious seafood (except me, but there's always something yummy on the menu for non-seafood lovers like myself), and we had some great meals.  My favorite was at The Cultured Pearl Restaurant in Rehobeth Beach (Note:  If you click on the link, their site has music).  We ate on the rooftop koi pond deck, which is a 15,000 gallon rooftop "lake" with raised deck gazebos for dining.  It was beautiful and the food, so delicious.  We also had the privilege of having dinner with Dave and Pat Conrad who lead Allies for Greyhounds of West Michigan, our Greyhound group.  I'm humbled every time I'm around them because of all they do to rescue Greyhounds and get them into good retirement homes.
My dream comes true.  I get to meet Carrie and Bunny.
Making New Friends
It was so fun to walk around town and meet other Greyhound enthusiasts.  EVERYONE I met was so friendly and fun.  I must say, I did have one special person and hound that I hoped to meet…Carrie, the author of my favorite blog, Tales and Tails and Bunny, also an author and often the star of Tales and Tails.  I was so excited when I found out that we would have the opportunity to meet.  Carrie's in-person self is lovelier than her virtual self…which is saying a lot; and Bunny is just hound perfection, in both form and manners.  I did get a kick out of Bunny's interest in food.  I met Carrie and Bunny at an ice cream social, and I must say that I have never met as polite or clever a foodie as Bunny.  Never pushy or ill-mannered, I was amazed at how she was able to position herself in the perfect location whenever someone was "done" or "almost done" with their bowl of ice cream.  All I can say is, "Well done, Miss Bunny.  I give you a score of 10."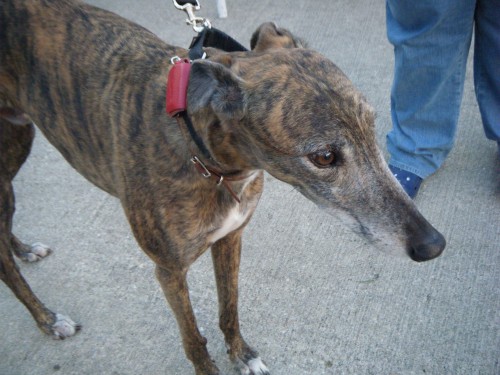 DJ – A perfect gentleman
Through Carrie, I was able to meet two other wonderful people.  First, her travel companion along with her hound, DJ.  DJ apparently is a character, but he was a perfect gentleman when I was around him.  Then, by accident, I ran into Carrie at Beth Wade's shop, and she introduced me to Steve Uyehara of ShutterHounds.  If you love hounds, photography or both, check out this talented gentleman's blog.  Steve was so gracious, and it was an honor to meet him.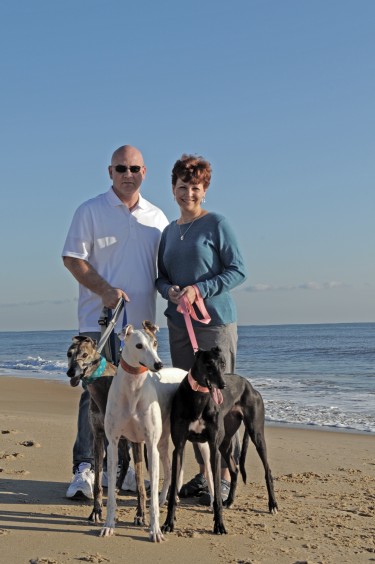 A perfect vacation
I'll stop here for now, but I'm not done telling you about our Greyt vacation.  Check in on Wednesday, and I'll finish up.

Dewey Beach on Dwellable