April 28
.
For the next few weeks, instead of starting a new creative book, e-course or challenge, I'm going to work on an unfinished project. Many years ago I bought four doll and quilt patterns from Hanging by a Thread. Last week, I did a post about the one I finished, but I never got around to the other three. Now, I want to finish them up.
This week, I dug up the other patterns and the fabric I purchased for the project. All the doll and quilt patterns are basically the same. The only thing that changes are the accessories and the designs embroidered on the quilts. So my question is…should I work on them individually, or should I do all the dolls, then all the quilts at once?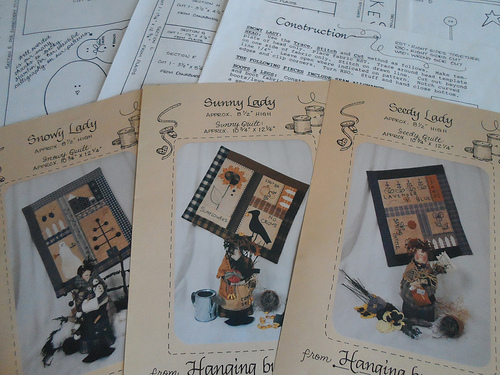 I think I'm going to work on them individually. Although it would be convenient to do some assembly line work, I'm afraid I may get things mixed up if I try to work on all of them at the same time. I'm going to start with the Seedy Lady quilt because I already have a good portion of that one done.