September 11
.
One of my resolutions for 2011 is to simplify.  I want this idea of simplicity to include my seasonal/holiday decorations.  Everyone in my family is brilliant at holiday decorating with one exception…me.  Over the years, I've collected things that I like but that make no sense when it comes to my decorating style or my holiday decorating energy level (which is very low).  I'm looking for a simple plan that encompasses all my seasonal/holiday decorating.  Here's what I've come up with:
Floral Arrangements
I have a few floral arrangements around the house.  Changing them out is easy and packs a nice punch.
Candles
I LOVE candles.  They're already in our home, so changing them to seasonal colors and scents is easy.
Centerpiece & Place Mats
This sets the tone for the dining room and is an easy switch.  I need a few good ideas for centerpieces.
Tablescape – Living Room
This is one of the first things you see when you enter our home, so keeping it seasonally appropriate makes a lot of sense.  I'll change the runner and add seasonal accessories.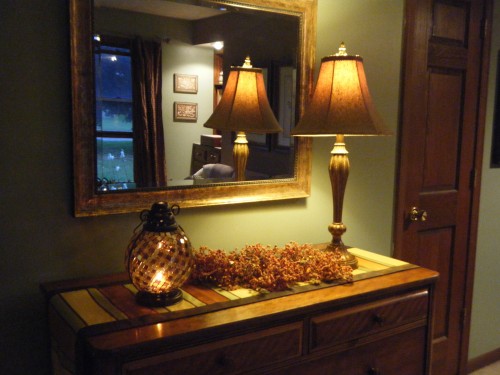 Couch Throws
This gives me a change to play with color and it makes sense from a practical standpoint.  Changing pillows might be nice too.
Door Wreath
The jury's still out on this.  I really don't want to store a bunch of wreaths.  I need to look for some fun, easy to store door decorations.  This might be my first Pinterest project.
Wall Art
Many years ago when I could still see, I stitched 6 seasonal/holiday samplers.  If I empty out my retirement fund and have these framed, they would be an easy switch every season.
Mantel/Fireplace Hearth
Like the tablescape in the living room, the fireplace dominates our family room; so a simple seasonal update here makes a powerful statement.
A Couple Favorite Pieces
I'd like to identify a few spots around the house where I can add those fun little items that I like.
What do you do to decorate for the different seasons/holidays?  I would love to hear your ideas and tips…especially if they're simple.