March 29
.
My friend, Dawn, works in the Care & Counseling department at my church, Granger Community Church.  She also works in Aftercare Services at Bubb Funeral Chapel.  She graciously agreed to answer a few questions I thought would be interesting, with regards to funerals.
Do you have to have a funeral?
The short answer to that question is NO; however, it all depends on how you are defining the term funeral.  If by funeral you mean a casket for the person who has died and a scheduled time of visitation followed by a service performed by officiate with a eulogy and the sharing of memories by family and friends – then "no," you do not HAVE to do that.  Many people cannot afford a full service and opt to do less.  There are things such as Memorial Services, Graveside Services and then there are options such as Direct Cremation, and Direct Burial where no service is held.  There are also circumstances when people have no family and/or have not had any advance planning done and no one willing to take the responsibility of planning a service and they then become a ward of the state and that state decides what is done with their remains.
In your opinion, what is the most valuable service a funeral home offers?
PrePlanning.  Hands-down. This is not the same as PreFunding where you pay in advance for your funeral – I think PreFunding is a great gift though, a very great gift.  PrePlanning means making the decisions in advance and having them on file with a funeral home so that your loved ones do not have to make the decisions later.
What services/benefits are offered by a funeral home that folks may not know about?
First, I don't think that people realize that funerals are more for the living than the dead.  The funeral is an event to commemorate the life of a loved one, and a ritual in our society that helps people move forward.  A milestone if you will.  I have come beside people who have said that until the funeral service they could not actually accept that their loved one had actually died.  So, the primary benefit that a funeral home offers is, in essence, its existence. 
As for other services, I cannot speak for ALL funeral homes, but the one that I am affiliated with offers PrePlanning, PreFunding, AfterCare – which is what I do, as well as the funeral service itself.  They also will file paperwork with the VA, and life insurance companies.  I believe that most funeral homes offer these services. 
What is one (or more) of the things that people wish their deceased loved one would have done or told them?
Again, PrePlanning is the top.  Second is having a Will and organizing and keeping up-to-date their important papers.  So many people do not want to consider their own death and therefore leave it to their loved ones to sort out their estate.  This can cause a great deal of discord between the family members that are left behind.  Many people do not know that if you do not have a Will, the state they live in may impose one upon them.  If you'd like to read the law regarding this, you can read Indiana's law here.  If you want to see how this law works, you can try this user-friendly "calculator" that helps explain the law here.
What's something that surprises people?
When it comes to the funeral planning part, most people do not realize that there are 125+ decisions that need to be made within the first 48 hours.  The need to make decisions directly after the death of someone you love can be challenging for some people.  For some it means you have to set aside your grief, your emotions, and try to plan an event that you had not prepared for.  It can be very difficult and often people choose products and services that really do not fit their budget.  It can be overwhelming more than surprising.
Another challenge is the Obituary.  Sometimes just knowing how to write it or who will write it can be stressful, but funeral directors are very good about helping with this and quite often will write it for the family.  Another factor with this can be that we want to pay homage to the person who died but at the same time, those words of tribute cost money. 
Quite frankly, there are many things that people find surprising and that is why I think it helpful to do the planning during a time when you are not susceptible to emotional decisions; such as after a terminal diagnosis or after the death of the loved one.  If you take the emotion out of it, you are likely to make wiser decisions.  This is one of those gifts that you can give to your family that they will never want to receive but will be very grateful for your thoughtfulness.
Do you have favorite resources that you consistently recommend?
I find new resources every day.  My current find is a website called FuneralWise.com that has a funeral estimator and also a Funeral Pre-Planning Questionnaire that you can print out and use as a guide for pre-planning a funeral as well as a Funeral Arrangement Questionnaire that you can use at the time of need.  It helps you see almost ALL of the questions that the funeral home is going to need answered.
Another resource is Center for Hospice Care.  They have a GREAT bereavement center in our community.  You can see the services and support programs they offer here.  Many communities have similar organizations.
Thank you, Dawn, for answering these questions.  I'm thinking of more questions, and I'll interview Dawn again.  If you have any questions, please leave them in the "Comments."  Dawn has a wonderful blog, Just Venting…or something like it, and even has her "Last Wishes" posted…the girl "walks the talk."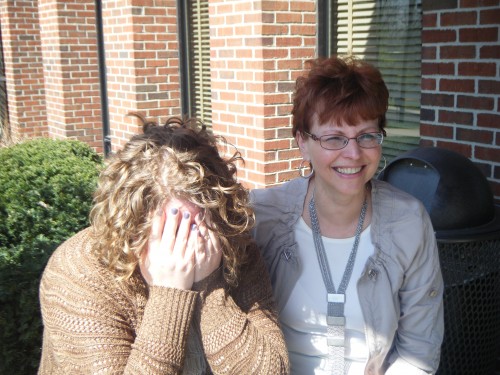 FROM THE BLOOPER FILES…Dawn despairing that we would ever get a "good" picture of the both of us, and our photographer, Susan, disobeying my request to not shoot my "rolls."
Daily Inspiration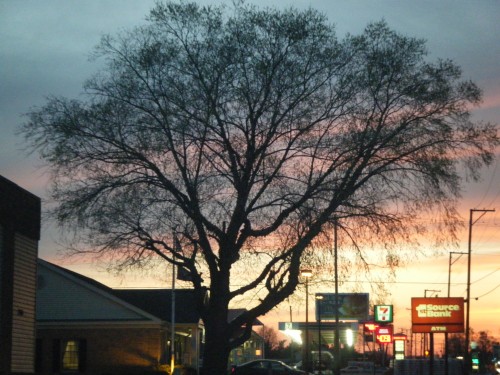 Loss is nothing else but change, and change is Nature's delight.
Marcus Aurelius, Meditations