March 1
.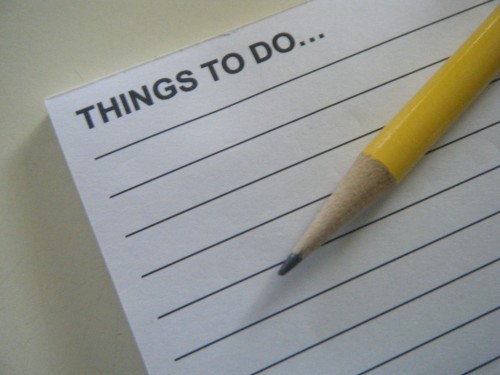 Every Thursday in 2012, I'm taking a look at tasks I wish I would have accomplished "if I died today."  This month, I'm listing out estate planning tasks, so I have an idea of what I need to do and gather together.  Laws are different in every state, so my husband and I plan to visit an estate planning attorney to make sure we're doing what we need to do.  This month, I'm preparing my "lists."  I'll make three separate lists – Important Documents, Business Documents and Personal Documents.  If you notice I miss something, please let me know in the "Comments."  These posts are not authoritative, rather they are like one friend talking to another, sharing plans.  This week, I'll start with the "important documents":
A Will – A will allows you to determine what happens to your money and possessions when you die, and who becomes the guardian of your minor children. If you don't have a will, state laws and courts make those decisions for you.
A Living Will – This document speaks for you if you become too ill or injured to speak for yourself.  It outlines the medical procedures you want taken.
A Durable Power of Attorney – This document allows you to appoint someone to make decisions on your behalf if you become incapacitated.  There are two types: one to deal with your personal, legal and financial affairs and the other to deal with healthcare decisions.
Real Property Documents – Proof of ownership documents for real property like real estate, vehicles, etc.
Life Insurance, Retirement Accounts and Assets with a Beneficiary – A list of policies and pertinent information like account numbers.
Bank Accounts – A list of investments and bank accounts along with any pertinent information like account numbers.
Daily Inspiration
 
Unbeing dead isn't being alive.
e. e. cummings 
Special Notice – I've heard that beginning March 1, 2012, Google Friend Connect will no longer support blogs that are not published using the Blogger platform.  I use WordPress to publish What Remains Now.  I certainly appreciate how convenient it is to follow blogs using some means of notification.  I use RSS feeds on Google Reader to follow the blogs I love.  So, using the discontinuation of Google Friend Connect  as motivation, I've added a few new ways to follow What Remains Now.  On the right-hand sidebar, you'll notice several different options.  You can follow What Remains Now by subscribing to my RSS feed, on Facebook, on Twitter or on Google+.  I will add the option to sign-up for e-mail updates in the near future.  You can also follow me and all your favorite blogs through Bloglovin'.  Hopefully, these options will make it easy and convenient for you to read What Remains Now.  Please let me know if you have trouble with any of these connection tools.