April 10
.
Every month, I'm looking around at all the things I use the most, to make sure those are my "best" things. This series was inspired by my friend, Amy, who noticed that some of the ickiest things she owned were the things she used the most. She wanted to change that to make sure that her every day life was filled with beautiful, functional things. This inspired me to take a look around and make sure that I wasn't saving "the best" for days that rarely come.
This month, I upgraded my work shoes.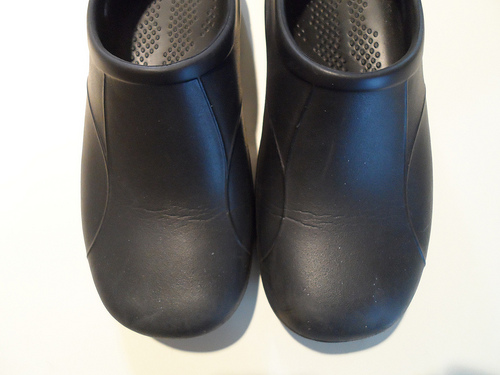 Old Work Shoes – Functional
About six months ago, I took a new position at work. I wear a uniform and have to have non-slip shoes. To start, I purchased an inexpensive pair of shoes that have worked fine, but they don't offer much support and they're pretty boring. Several gals wear Dansko shoes and had great things to say about them, so I took the plunge and bought myself a pair.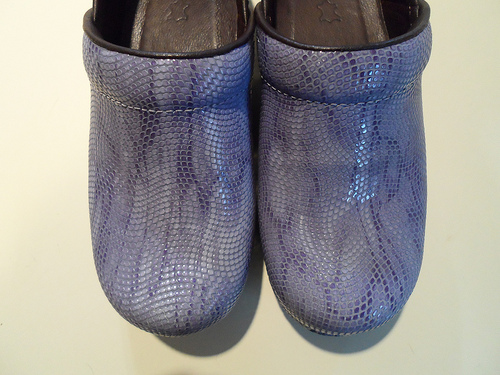 New Work Shoes – Functional & Pretty
They offer great support, plus they're jazzy. They probably look grey in the picture, but they're a lovely lilac with a little sheen.
Snazzy Work Feet
I'll keep my old work shoes for days when I might be doing messy work, but my new shoes add a little personality and pizzazz to my uniform.
I do an "Every Day Ugly" post on the second Wednesday of every month. I would love to have you join me. If you have some horrible thing that you make beautiful, send me a picture or pictures and tell me about it at whatremainsnow@gmail.com.