June 12
.
Every month, I'm looking around at all the things I use the most, to make sure those are my "best" things. This series was inspired by my friend, Amy, who noticed that some of the ickiest things she owned were the things she used the most. She wanted to change that to make sure that her every day life was filled with beautiful, functional things. This inspired me to take a look around and make sure that I wasn't saving "the best" for days that rarely come.
This month, the change was small but good…new kitchen sink sponges. A while back I changed from plain sponges to prettier cellulose sponges.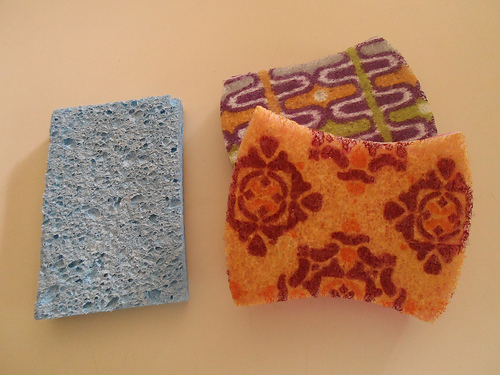 Old Sponge to Cellulose Sponge
Then, I saw these Greener Clean Sponges from Scotch-Brite and thought they might be an even better choice.
New Sponge
What makes these sponges even more environmentally-friendly is the scrubbing fibers are made from 50% agave plant, and the sponges are made from 100% plant-based fibers with 23% of that being recycled materials. A nice change.
I love to see what you're doing too. Recently, Patty (Joey and Scout's momma), from Two Greyhound Town, updated her spice containers. I asked her if I could share her new look and she said, "yes."
Spices Before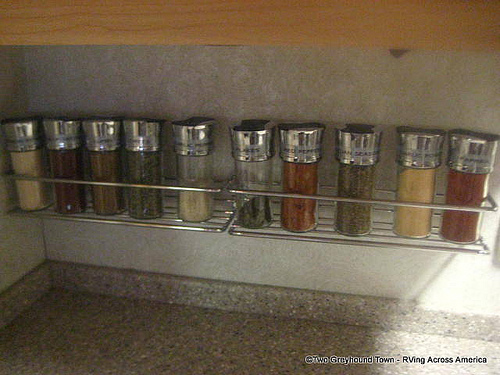 Spices After
Another View
Don't the new jars look lovely! Since Patty is a wonderful cook, this is something she'll enjoy almost every day. Two Greyhound Town is one of my favorite blogs and chronicles the adventures of Joey and Scout, two Greyhounds who are RV'ing all over the country. Joey and Scout are hilarious, and Patty shares their travel adventures, RV living tips, takes us to places they visit and writes restaurant reviews on her blog That One Restaurant. Check them out.
I do an "Every Day Ugly" post on the second Wednesday of every month. I would love to have you join me. If you have some horrible thing that you make beautiful, send me a picture or pictures and tell me about it at whatremainsnow@gmail.com.