October 9
.
I do an "Every Day Ugly" post on the second Wednesday of every month. I look around at all the things I use the most, to make sure those are my "best" things. This series was inspired by my friend, Amy, who noticed that some of the ickiest things she owned were the things she used the most. She wanted to change that to make sure that her every day life was filled with beautiful, functional things. This inspired me to take a look around and make sure that I wasn't saving "the best" for days that rarely come.
This month, the change came for two reasons…form and function. I have two personal care products on my nightstand, lip balm and foot cream. The foot cream tube has been annoying me for quite some time. First, the form. I'm constantly knocking over the tube. Second, the function. I tend to apply the foot cream with the lights out. Coming from a tube, I'm never sure how much I'm squeezing out…sometimes too much, sometimes too little.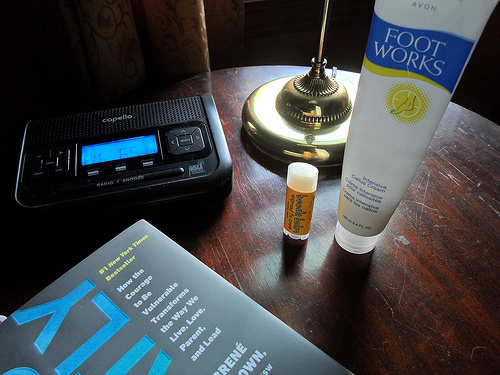 Enter, a beautiful solution. I purchased this lovely terra cotta pot of 100% shea butter at Ten Thousand Villages. I love the look of the jar and the low profile. I also love that I need very little of the shea butter to do the job, and I can just tamp my finger on the top of the shea butter, giving me much better control over how much I'm getting.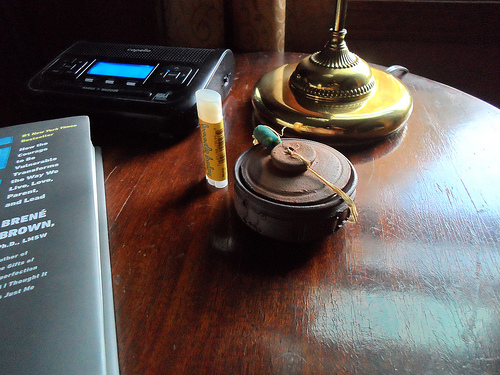 My only fear is that one of the pups will discover this jar and eat the shea butter. It happened once before with a tin of Booda Butter.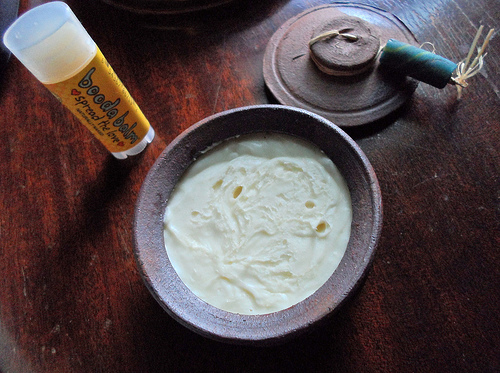 I love to see what you're doing too. Veronica (Bettina and Blue's momma), from Yes I Know, My Dogs Look Funny, added a little dazzle to her routine office work. Behold…bedazzled office supplies.
Veronica says it's a small thing, but it does make bill paying a little more enjoyable. Anything that makes a task like bill paying more pleasant is worth considering. Thank you, Veronica!
I would love to have you join in. If you have some plain thing that you make beautiful, send me a picture or pictures and tell me about it at whatremainsnow@gmail.com.